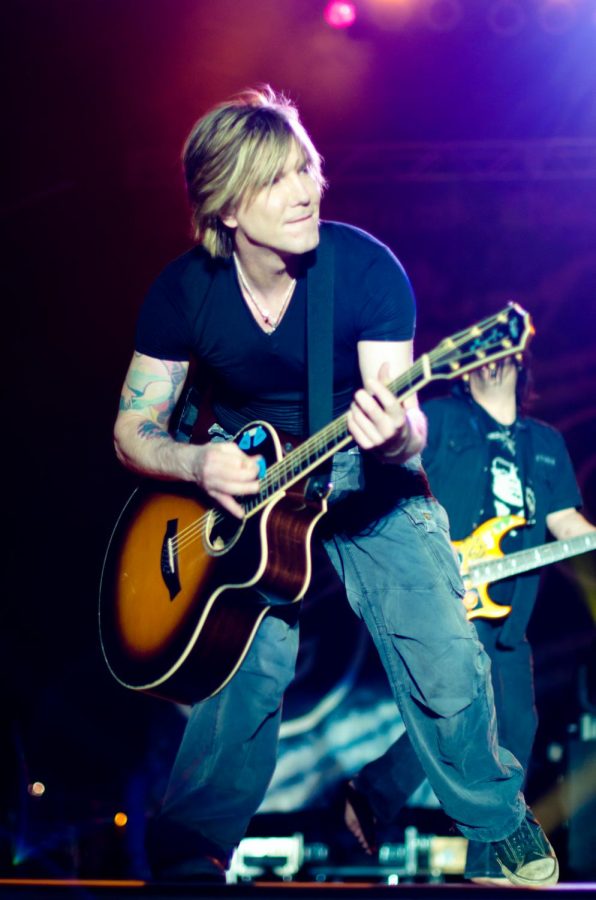 Wikimedia Commons
As a four-time Grammy nominee, Billboard Music Award winner, 4x Platinum album artist and member of the Songwriters Hall of Fame, Goo Goo Dolls frontman John Rzeznik has an arsenal of achievements to be proud of. Yet, as a humble family man now residing in Westfield, Rzeznik has his focus on the more genuine aspects of his rock star life.
After graciously accepting my invitation to come to WHS to be interviewed, Rzeznik walked into Room 111 with his wife, Melina, and daughter, Lili, with a smile across his face, ready for whatever questions I asked.
Rzeznik began by explaining how his mother and father were both amateur musicians, making it clear that music has always been a part of his life. He said that when he was growing up there were always instruments around his house, which sparked his interest in the hobby.
Rzeznik first started to get into music at the age of eight. "My mother thought it would be a good idea if I learned how to play the accordion, which is a bad idea for an eight-year-old boy, it's a horrible thing to do to a kid," he said light-heartedly. He then went on to try the drums and finally settled with the guitar at age 12.
"I wasn't an athlete," he said, "but I was able to fit in and find my voice and find my group by playing music." Rzeznik started writing for the Goo Goo Dolls in his late teens and they released their self-titled debut album in 1987 when he was just 21.
The Goo Goo Dolls' breakthrough album, Dizzy Up the Girl, was released in 1998 with songs "Iris" and "Slide" topping the charts. From there the band continued to grow and they started to see more fans, bigger venues and higher album sales.
Yet, Rzeznik's humility remains evident. "For me, it was never an endgame of  'I wanna be famous,' it just kinda happened and, since then, I've been famous and not so famous, and then famous and not so famous again, but I don't rely on it for my self esteem," he said. "What other people think of me or if they know who I am, it can't matter, because then I won't feel good when I'm not important, so I have to be consistent."
Rzeznik explained that for him, it was difficult at times to feel fully comfortable speaking his mind while being in the public eye. But, as he's grown as a person and musician, he has gotten more comfortable with his role. "[As you mature] you get a little more experience and a little more certain of what your abilities are and what your limitations are," he said.
Rzeznik touched on his struggle with addiction during his early years as a musician. He emphasized the need for a strong support system and good friends and said: "If you need help, get it, go and get it, there's nothing to be ashamed of. [Alcoholism] is treatable, but it can kill you if you don't get the help you need. The saddest place that I ever was in my life was wanting to be free from my addiction and not being able to stop."
Rzeznik also discussed his search to find his voice and his place among other performers in the fierce music industry. "My metrics for success have changed as I've gotten older and as I've moved through my career," he said. "I used to get really upset when I would read a bad review or someone would say 'You guys suck!'" Rzeznik explained that as he has matured, he has learned to look past the critics and judgement and, instead, focus on putting his all into his music.
For aspiring musicians, Rzeznik said, "Don't worry about becoming famous on American Idol because that's nonsense. Speak your mind and be brave and make sure you have a big support system because you're going to get a lot of rejection and a lot of people are not going to like what you do."
Rzeznik emphasized that the musician lifestyle isn't always easy. With his 2-year-old daughter back at home, he finds it difficult to be traveling so often. But, it's evident that his motivation to succeed and continue working lies in his daughter. "[Becoming a father] made me say to myself 'I gotta work really hard', because I wanna spoil her and give her all of the stuff I didn't have as a kid," he said.
Rzeznikis now living in a historic house in Westfield with his wife and daughter. He and Melina moved to Westfield from Los Angeles to raise their daughter and, as Rzeznik said, he "fell in love with the town in an afternoon. I had lunch at Vicki's Diner and I was walking down Broad Street and I was like 'I love it, I love this place.'"
The Goo Goo Dolls are currently on tour with Train and will be releasing their 14th album next fall. After over 30 years of playing, writing and performing, Rzeznik's passion still remains and it's clear that his natural talent and dedication are at the core of his decades of success. Although he has built his family in Westfield, Rzeznik will always be a rock star at heart.