Westfield community copes with COVID-19 through exercise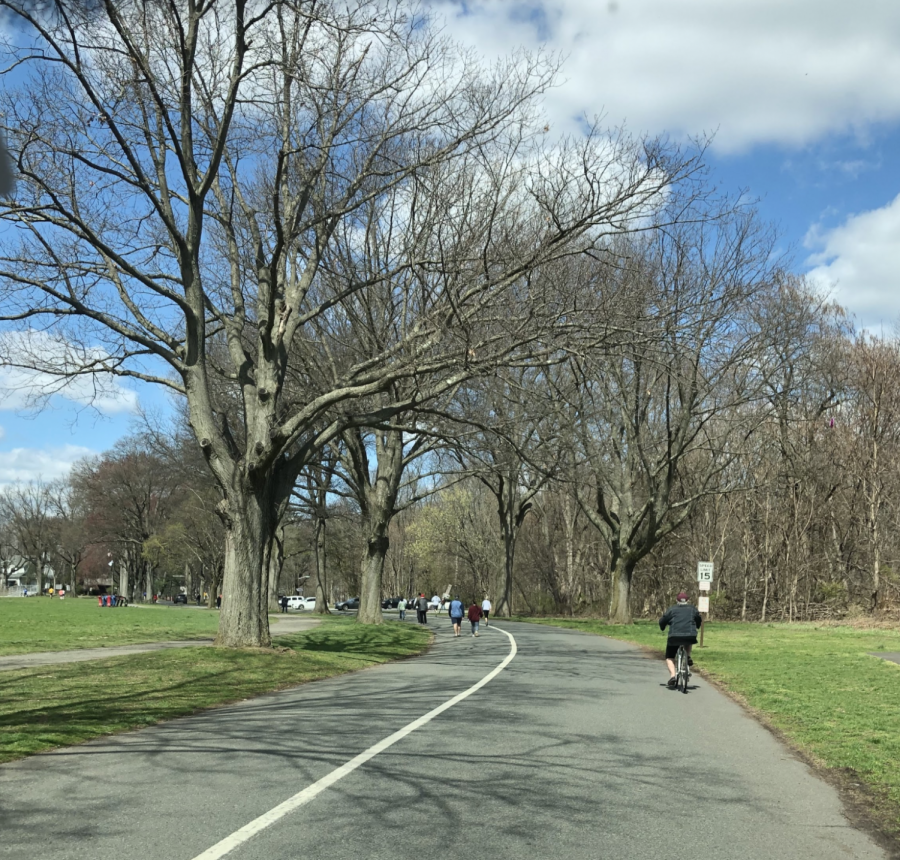 After watching multiple hours of Netflix, catching up on sleep and taking numerous trips to the fridge, people are now looking for other ways to keep themselves busy through quarantine. With that being said, exercise has become one of the new biggest activities. Without the luxury of using a gym and the equipment it has to offer, people are now coming up with more creative ideas to get a workout in.
As Westfield concludes its third week of quarantine due to the COVID-19 pandemic, the number of people looking to get fresh air, as well as stay active and healthy, has skyrocketed. Public areas like parks, hiking trails and even the streets of many residential areas have become crowded with people who all want to up their exercise game during this quarantine. 
Not only are people going on their own runs or walks, but gyms are now offering virtual workout classes through the platform Zoom. Jeni-Fit, a local gym in Garwood, NJ, is teaching classes like barre, spin, yoga and circuits all through Zoom. By using household items like a broom or a chair as well as water bottles as a substitute for weights, you're able to get a "gym" workout in the comfort and safety of your home. 
Jeni-Fit instructor Patti Bromberg shared her experience with the shift from in-person instruction to online classes. "It felt very awkward [at first] but it was fun," said Bromberg, adding that her co- teacher eased the discomfort in transitioning to online classes.  
Although online workout classes may not be for all, parks are remaining open but are strictly enforcing social distancing rules. Police cars are stationed at parks and other public places to ensure that everybody is following the guidelines.
Ava Paul, a WHS senior, explained her experience while trying to get some exercise in Tamaques Park. "I was at Tamaques Park last week playing tennis. All eight courts were taken and there were even people waiting to go on the courts after someone finished," said Paul. "When I was taking a jog around the park, it was so crowded that I had to weave in and out of people so I didn't bump into anyone. It was really nice to see everyone in the town out and about getting some fresh air and exercise!"
 On March 31, Mayor Shelley Brindle announced that the tennis courts will be closed indefinitely beginning on April 3. 
But for some, virtual workout classes and trips to the park are not ideal situations, so as a way to still get their heart rate up and body moving, they are doing their own personal workouts at home. YouTube videos, apps and Instagram live streams are other ways for people to exercise while staying in their homes. 
Rather than watching someone else's workout video online, WHS senior Andrew Echausse came up with the idea of creating at-home fitness videos and a documentary on preventing and coping with child obesity for his senior project.
Since the quarantine will continue indefinitely, Echausse is focusing on exercising more as a way to stay fit but also remain busy. "Make a goal for yourself and put aside some time to achieve it," said Echausse. "There is no excuse for not putting time in to work out, especially with the downtime during the coronavirus [outbreak]."
On the contrary, for those who use the gym as their main source of exercise, they now feel less motivated. WHS graduate Hayley Kasko said, "I personally prefer to work out at a gym, so in a sense I'm less motivated to work out because I don't want to or can't do those exercises at home. But being in quarantine has motivated me to take my dog on walks and even though it is not the same, it's better than nothing."
For the Westfield community, many residents have coped with quarantining by finding new ways to stay active. Walks in the park, running and even virtual gym classes have given people the opportunity to stay busy during this world wide pandemic.