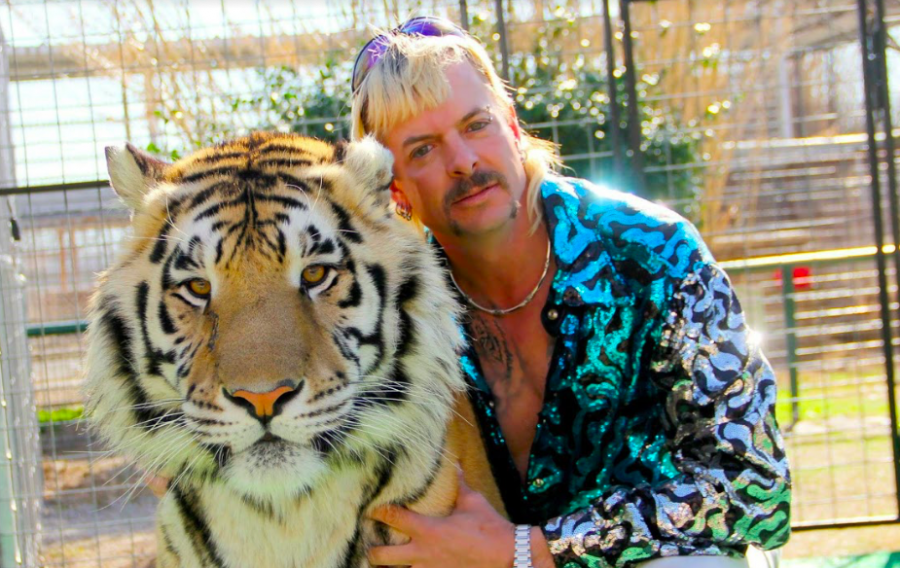 Netflix
During this crazy quarantine. what else would spice things up like binge-watching seven jaw-dropping episodes of Netflix's new documentary, Tiger King: Murder, Mayhem and Madness? Netflix has been many people's savior during this pandemic, especially with the excitement surrounding this beyond bizarre documentary about the king (Joe Exotic) and queen (Carole Baskin) of the big cats. 
The man behind the riveting series is Joseph Maldonado, better known as Joe Exotic. He is a gay, gun toting, big cat enthusiast and politician who allegedly orchestrated a murder-for-hire plot against his rival Carole Baskin. But that is not all, Carole Baskin is also an animal rights activist and owner of Big Cat Rescue, who allegedly murdered her second husband. 
Baskin begins the escalating drama with her longing to shut down Joe Exotic's operation of big cats because she feels that he is abusing his animals. The two began harmlessly threatening each other on various social media platforms, until it became not so harmless. 
What really went on with the boasting Joe Exotic and crazy Carole Baskin may just be the most captivating debate and source of entertainment this quarantine has seen. It is difficult to know where the dirt begins with the show's unexpected plot twists and turns. 
Joe's orbit never seems to stop expanding. Joe's life consists of his two husbands, plus another exotic animal lover and big cat owner, Bhagavan "Doc" Antle who has four wives (maybe) and Joe's money bag business partner Jeff Lowe. 
Now, if you have not watched the series already, don't go reading about it first (except this review of course). I strongly recommend that you watch the documentary first as much of the series' strength lies in the never-ending surreal surprises. 
The extremely interesting series could, perhaps, spend a bit more time on the animal rights issues at play since it chooses to use that argument as only the backdrop for this drama of human conflict. The war of words between Baskin and Exotic took precedence over the animals' well-being as the series went on. 
These poor animals aren't forgotten by any means, but maybe the fact that their situation doesn't take center stage is kind of the point embedded in all of the show's madness. As Tiger King shows time and time again, the actual lives of these animals are ultimately afterthoughts for Joe Exotic and his partners. 
Could the animals simply be mere props meant to highlight their owners' perceived specialness and king-like actions in order to build themselves and their personal legacies?
With all of that being said, by the end of the cleverly constructed series, I felt bad for pretty much everyone caught in Joe's web, including Joe himself. Therefore no, Tiger King is not an uplifting idea to gather around as we fall further into the misery of isolation. But, it is incredibly fascinating and well worth a watch. The tale of caged things, people included, will strike you as pretty wild.