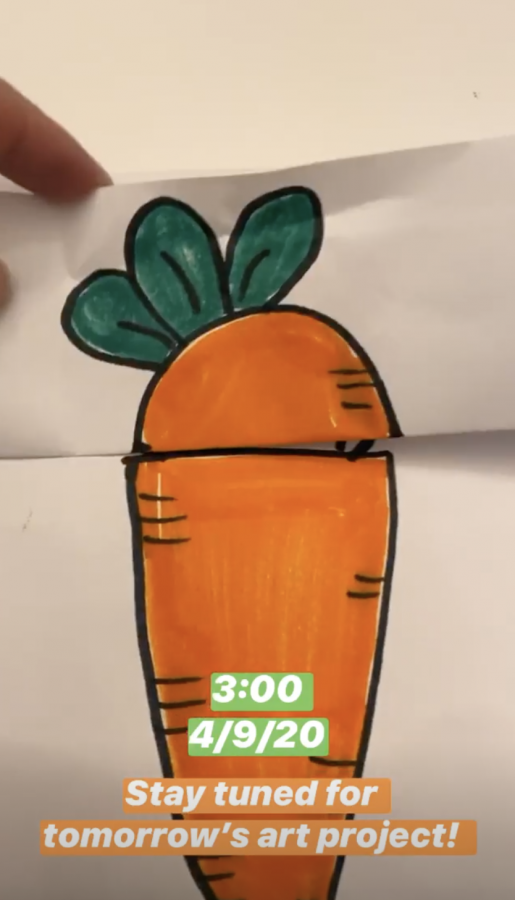 @shawnjustnameit IG
Due to the recent quarantine, many WHS students have been making an effort to keep their lives normal and do the activities they love online. In attempts to stay in touch with their typical lives, dance teachers, music instructors and artists have been providing viewers with online classes via Insta Live and Zoom.
Senior Sydney Butler has been taking a live violin class with her instructor on Zoom and said, "While we're stuck inside during this quarantine, it's important to continue at least a couple of your normal daily activities. Although I do enjoy [these online sessions], it can't replace the same experience as a normal lesson would. If it keeps me busy, I can do at least one of the things that I love inside my house." Even with some technical difficulties leading her to a point of frustration, Butler finds it crucial to continue her passion during the pandemic. 
Similar to Butler, junior Ellery Wolf is also continuing her music lessons. As an oboe player, Wolf said: "I took a couple classes for oboe because I had an online audition I had to practice for. I enjoyed it, but it was definitely super different than normal because it was a 30 minute lesson rather than an hour and my instructor couldn't give me music to play." While doing a hobby that she usually enjoys, Wolf explained that the online version on Zoom "doesn't feel like normal life," and it "felt like another class for school." 
Shawn Goldstein, a local Westfield mom and owner of a customizable products business called Shawn Just Name It, has been running interactive art classes on her Instagram live twice a week. As a former art teacher at a middle school in West Orange, Goldstein's love for the arts is something she wanted to share with the world. "I felt like I wanted to give back something to the kids and the parents, bring some of my knowledge and the fun of art," she said.
 Anyone can do the drawing projects with Goldstein, in fact she encourages it. "In art I believe there's no wrong or right. I constantly tell them on the live, there's no wrong or right, just have fun. The most important thing about art is to just enjoy it and feel good about what you do."
Some dance studios are continuing their dance lessons on Zoom, teaching techniques and dances all while practicing safe social distancing. This is a way for the dancers to stay in touch with their friends and still participate in the activity they love. 
Senior Alethea Cladis has been taking live ballet classes during quarantine. Cladis said: "I want to be a professional dancer and can't afford to take time off. It's not as enjoyable as normal class and rehearsals, but I need to keep up with my technique so that I don't fall behind by the time I get back into the studio." 
According to CBS News, fitness centers including Blink Fitness, Crunch Fitness, LA Fitness, Orangetheory, Life Time Fitness and 24 Hour Fitness want members to work up a sweat and stay healthy at home. Fitness studios have started live-stream and recorded digital classes. Blink Fitness said on Facebook, "Just because we have to stay in doesn't mean we can't stay active. Let us bring the gym to YOU." These classes are made to alleviate stress and improve your mood. Planet Fitness hosts "work-ins" at 7 p.m. ET every day on Facebook Live. Its trainers, and sometimes surprise celebrity guests, lead the 20-minute free workouts sessions. 
Although many have stated that online classes can't fully replace their normal pre-quarantine activities, they recognize it is important to stick with their daily routines and continue to do the things that they love. Thank goodness for live-streaming.