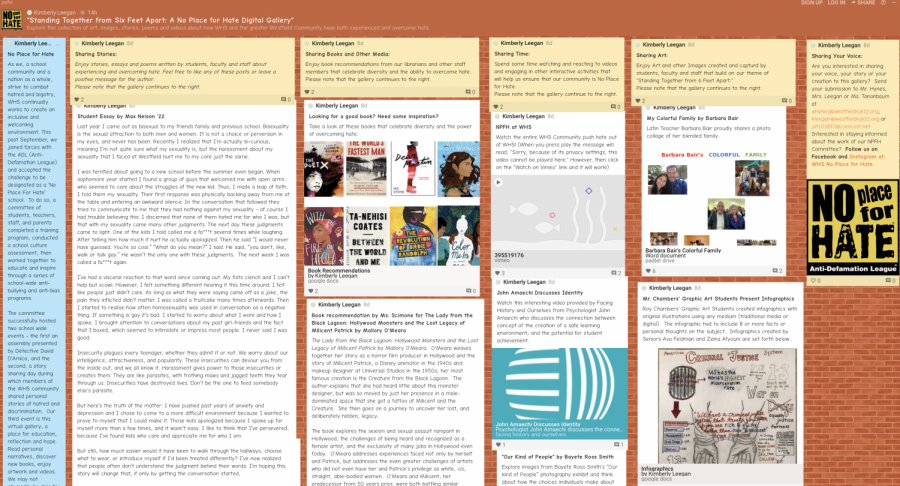 padlet.com
Last year, WHS joined forces with the Anti-Defamation League in hope of creating a "No Place For Hate" environment in the school community. A committee of students, teachers, staff members and parents formed to help organize school-wide events dealing with anti-bullying and anti-bias programs.
Originally, an interactive student gallery was intended to be held in the Student Center at the end of March, but due to school closures, they had to modify their plan. As a result, the third scheduled event had to be modified in order to reach everyone at home. 
The committee decided that a virtual gallery would benefit the community. This gallery provides an outlet to read personal narratives, discover new books, enjoy artwork and much more. Titled Standing Together from Six Feet Apart: A No Place for Hate Digital Gallery, the committee hoped that this resource would show the community that everyone might not physically be able to view the content, but can remain dedicated to ensuring that WHS remains positive and avoids all forms of hate virtually as well.
"We hope that many people will visit the gallery often and be inspired to create more things to add to it," said History Teacher and No Place for Hate committee Co-Coordinator Kimberly Leegan. "But most importantly, we hope that the gallery stands as a reminder of our continuing commitment to stand against hate." Leegan said that the purpose of the gallery is to serve as a place for education, reflection and hope.
The committee continues to meet virtually and work on original ideas that can be converted to a digital format. Submissions are sent to Assistant Principal and Co-Coordinator of the No Place for Hate committee Warren Hynes and parent committee member Jennifer Tananbaum. Anyone is welcome to create something for the gallery and submit it for approval. You can submit your work by emailing the coordinators directly. Their emails are provided on the gallery itself all the way to the right of the screen.
Using the platform Padlet, the committee members reviewed, edited and finalized the virtual gallery before publishing it. 
"It's a way for us to connect, learn and grow," said committee member, Ana Fowler. "The gallery provides resources and information about topics that are unfortunately not talked about enough, and it is tied together by those courageous enough to share their stories as well as their literature, art, poetry and more."
To view the gallery and explore the platform, CLICK HERE.