College recruiting during a pandemic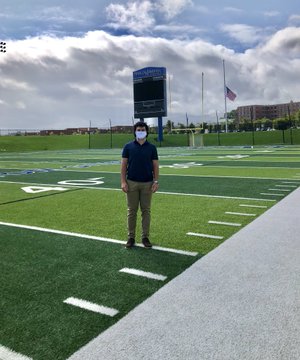 For some top tier athletes, high school sports are just a stepping stone to their ultimate goal: the opportunity to get recruited and continue playing their sport in college. Across WHS's sports programs, there are many athletes who have achieved this. The process of getting recruited is exciting and rewards athletes for all of their hard work. However, much like the rest of the world when COVID-19 hit, the recruiting process became a lot more stressful and difficult for athletes and coaches alike. 
WHS senior and football captain Will Heflin has experienced this struggle first hand. Heflin has 13 Division I offers from schools such as the University of Chicago, MIT and Carnegie Mellon. "I feel the biggest challenge Covid created was the reduced exposure to coaches, loss of recruiting opportunities, and the visiting restrictions. Many people have committed to places without visiting," said Heflin. He also mentioned that players and coaches cannot meet face-to-face, making it hard to form a bond with a coach virtually.
Typically, college coaches recruit athletes for their teams by attending games, tournaments and holding showcase events. However, due to the cancelation of most of these events, coaches must find recruits in alternative ways. Chris Wojick, WHS Class of 1992 and Notre Dame Men's Assistant Lacrosse Coach, said his coaching staff is in the middle of a dead period, so they cannot have face-to-face contact with athletes according to newly implemented NCAA guidelines. Analyzing an athlete's game film has become a paramount part of the recruiting process now, which has its benefits and drawbacks. Wojick said "The college coaches spent a big part of the summer watching film. For recruiting, it took us out of being able to watch young men and women in person." Although it has been difficult, there are some benefits to this style of recruiting. "Nothing can replicate being in person, but one one advantage is that being able to have it on film, we're able to rewind and pause and go back and watch it multiple times," said Wojick.  
WHS senior basketball player Jack Spellman, who has recently cut his list down to his top nine Division III offers, has seen some positive aspects in the recruiting process during a pandemic. Spellman said, "The one benefit that came out of having the pandemic was that I had a lot more coaches contacting me. This was because coaches were extremely reliant on video and I had schools from far away that ended up reaching out to me." 
 Usually college-bound athletes could attend events and visit colleges to meet the coaching staff, as well as tour prospective schools. Due to COVID-19 restrictions, many schools are shut down so touring options are limited, with many schools offering virtual tours or self-guided walking tours. WHS junior Avery Hoeft, who hopes to get recruited to play lacrosse in college, said that "while the virtual campus tours provide a great outlook of the school's exterior, the in-person relationships are much harder to replicate on a screen." 
Due to limited in-person opportunities for athletes and coaches to connect, many collegiate athletics programs have focused on developing their online presence. Hoeft said some schools "[created] interactive 'getting to know us' websites and blogs with their teams and facilities" to introduce athletes to their program. 
WHS senior football captain Daniel Shakal said that Zoom calls with coaches and players became common in recruiting. "Being that all of these informational meetings are online, it is much easier to make time. Some schools are very far, and it's nice to connect with coaches even if you can't travel to the school," said Shakal. 
With more online connections between athletes and coaches, social media has also been an important tool for communication. WHS Assistant Principal and Football Coach Jim Desarno advises his players to "be active promoting [themselves] on social media. Follow as many college coaches as possible, anything to get on their radars." 
No one can be sure when recruiting will go back to normal. Until then, this will have to become the new norm for players and coaches. As Wojick said, athletes have to remember, "If you haven't heard from the coaches of the schools you want to go to at this time… don't get discouraged and keep making yourself the best athlete you can be."