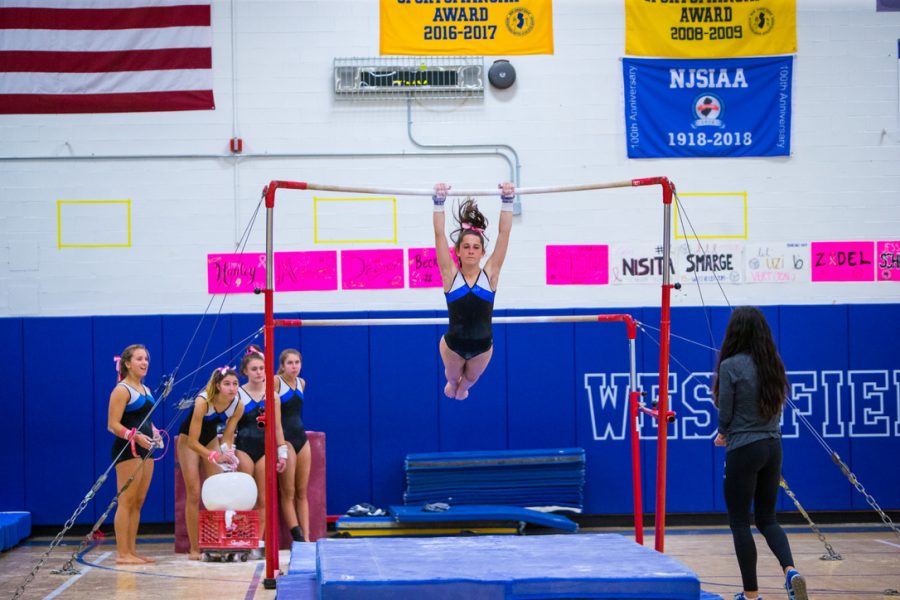 courtesy of Varsity Vantage
WHS has now been through almost two fairly successful sports seasons this year, each facing challenges from the ongoing COVID-19 pandemic. The next season that the NJSIAA is calling "season three" consists of gymnastics, girls volleyball and wrestling. Season three started Mar. 1 and ends Apr. 24. There is no doubt that this season will have its own difficulties, however, the athletes and athletic program will be ready for whatever lies ahead. 
On  Mar. 1 these three teams were able to hold in-person practices. Athletic Director Sandra Mamary has planned for the wrestling team to practice in cafeteria B, which is much bigger than the wrestling gym. Mamary also said that cafe B has good ventilation and natural lighting that can help kill any bacteria in the room.
WHS senior wrestler Johnny Heard explained how practicing in Cafeteria B works: "We are put in wrestling pods that have, at most, four people and the pods are all socially distanced throughout the cafeteria." The team might also be experimenting with other venues due to COVID-19 protocol. Heard said, "Coach Kurz has told us that we [might] have some matches scheduled outdoors at Kehler." 
The gymnastics team will be practicing in Gym 5 and the back of the wrestling/gymnastics gym, while competitions will be held in the main gym. The gymnastics team is taking special precautions this year because of the pandemic. Head Gymnastics Coach Amanda Diaz said, "We will be breaking the team into two groups to lessen the number of girls on one event. All equipment will be sanitized on a daily basis and masks will be worn when not on an event." 
The gymnastics team will also be sharing the gym to practice with the girls volleyball team. Although the season is a lot shorter than usual, the gymnastics team is looking forward to it. Diaz said, "We are looking forward to enjoying the time we have together as a team and hope to give the seniors a memorable final season. We are grateful to be able to have a season, even if it's shorter."
Girls volleyball will practice at RIS and move back to the WHS main gym once the boys and girls basketball teams wrap up their seasons. The boys basketball team has its last game Mar. 5 and the girls have their last game on Mar. 6 which leads to a one-week overlap of basketball and volleyball. 
Junior Chloe Kreusser is a part of both the girls basketball team and girls volleyball team and has been affected by this overlap. Kreusser said she will finish off her basketball season before attending any volleyball practices. "I am not the biggest fan of [the overlap]. It feels like once I go to volleyball I'm going to be behind on everything. I am also missing tryouts which doesn't create a good feeling" said Kreusser.
According to the NJSIAA, any high school athletes with overlapping seasons are allowed to practice/play with both teams, and it is up to the player to make the decision. Amidst this decision, Mamary emphasizes that athletes must do everything in their power to limit their contamination.