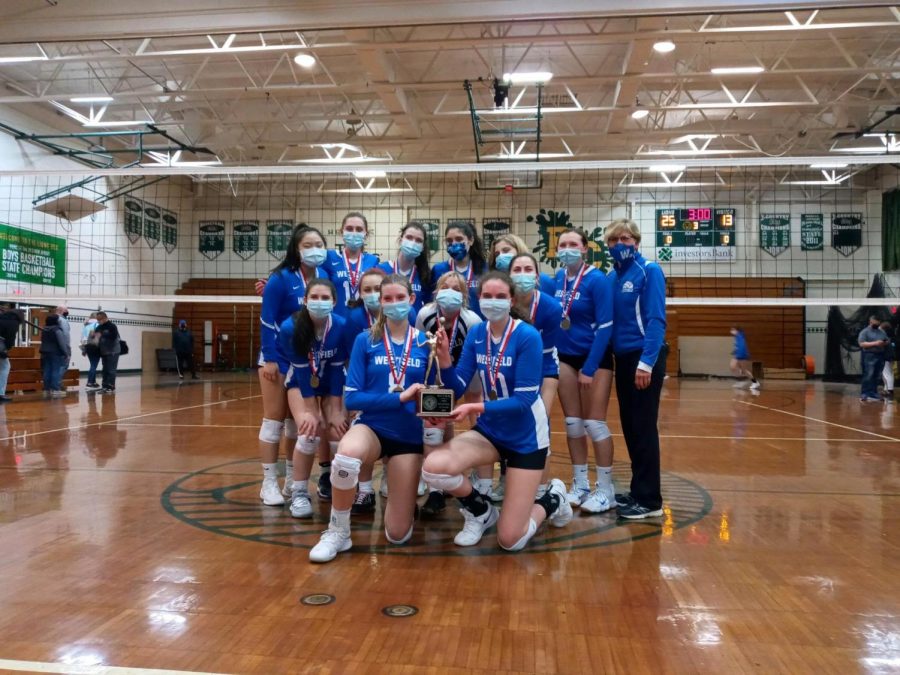 courtesy of Heather Dayon
The WHS Girls Volleyball team was on fire this season winning the county championship over Scotch Plains in a thrilling fashion before advancing all the way to the state sectional final.
The volleyball team is not new to high-level competition, but this season they have rocked the high school volleyball landscape. The volleyball team is ranked 14th in the state by nj.com and went 14-2 this season.
Within the conference, the Blue Devils went 7-0. They also knocked off reigning County Champions Union Catholic in a three-set semifinal before advancing to play Scotch Plains for the County Championship.
This battle-tested Westfield team entered the county championship game against Scotch Plains ready to win its first County Championship since 2017. After losing in the county finals the past two seasons, this year looked like it might be another heartbreaker for the Blue Devils as they dropped the first set 22-25. Westfield made some adjustments after losing the first set and dominated the rest of the game, winning the county title.
Scotch Plains senior Adelina Berisha was getting all the kills, so Westfield needed to find a way to limit her impact. Girls' Volleyball Coach Beverly Torok said, "We needed to adjust to their big hitter because she hits hard and a lot of times over the block… We adapted knowing they were going to her every time, so we got our block there sooner and it gave  us more opportunity to touch the ball and slow it down." After this change in strategy, Scotch Plains looked a bit rattled allowing Westfield to find their groove and bring home the title for a senior-heavy team.
 Senior Captain and Franklin & Marshall commit Gianna Mangiamele said, "This year we have been able to come together and work as a team. We used our strengths to our benefit and played smart during tough matchups."
Torok pointed to the team's versatility and leadership as the determining factor in the County Championship. "This year we really worked as a team. We have a versatile attack, we don't just have one go-to player… and our defense is very communicative and works together in the backcourt."
The volleyball team's season continued beyond the county final into the Group IV North II sectional championships where they just lost out on the top seed. After defeating Linden in the quarterfinal and Watchung in the semifinal, Westfield advanced to play North Hunterdon in the final. Unfortunately, the Blue Devils' run stopped there, losing in two sets to a talented North Hunterdon team. 
Despite the tough loss, Mangiamele expressed how happy she was to be a part of this group. "The biggest challenge we faced was North Hunterdon during state finals. They are a very good team and ultimately were able to out-compete us to win the championship. Although we did not win, I am very proud of where we made it and how far we got."
This group of girls has made history this year bringing back the county crown and competing at a high level all year. 
Torok talked about how much her players made this season a reality by being responsible and working hard. Seniors Gianna Mangiamele, Emma Hanley and Kerry O'Gara Donovan led a strong offensive attack along with junior Chelsea Duan. Senior Rebekkah Dayon led a vocal and strong defensive unit. Seniors Anna Tichenor and Victoria Toal stepped up to be the setters in their first varsity season. Juniors Taylor Addis and Chloe Kreusser made up the middle this year and senior Audrey Heber was unfortunately out with an injury. 
Torok said, "I'm really proud of our seniors taking charge, and this being their year, they really owned it. I always like to see the seniors shine and this year they certainly did."