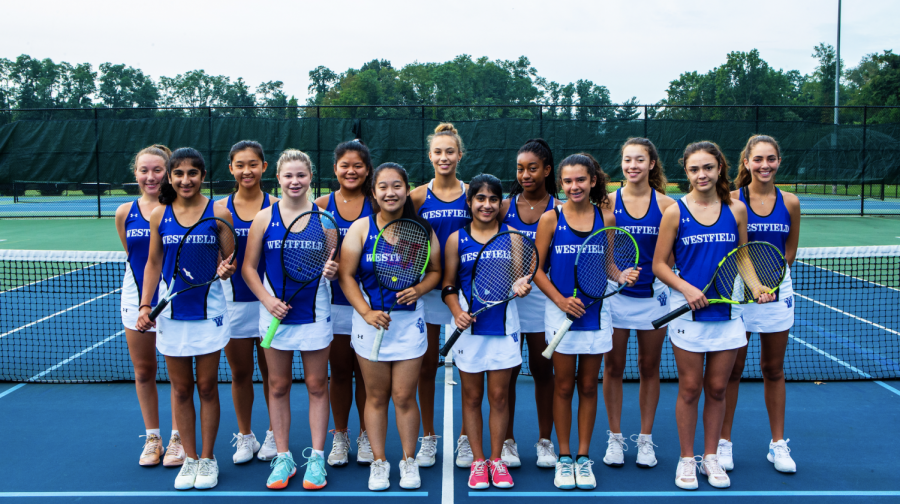 courtesy of Varsity Vantage
On Oct. 12, the girls tennis team brought home another trophy as they beat J.P. Stevens 5-0 to win the North 2 Group 4 sectional championship. Westfield came into the sectional match with a 15-3 record and ranked eighth in the state. 
Freshman Savannah Cohen, senior Natalie Zelechowski and senior Katey Peretz won their singles matches to take a 3-0 lead. Doubles partners junior Annika Vesuna and sophomore Emily Shabinaw, as well as freshman Bianca Vesuna and junior Madison Wright won their doubles matches to sweep J.P. Stevens to win the section.   
Last year, the girls tennis season was cut short due to COVID-19. "The team last year was completely different, regarding tryouts and tournaments. COVID affected the entire team and after missing out on most of the season last year, it only pushed us to get closer," said senior Captain Payton Silverman. 
Alongside Silverman, senior Captains Natalie Zelechowski and Katey Peretz had varsity experience, further helping the team in their successful season. This year, the girls also went on a 10-game winning streak and took second in counties. 
When asked what makes the team so successful, Peretz said, "This year we had more people on our varsity team than in past years. This created such a stronger sense of community within the team and an amazing supportive atmosphere." 
The girls' success went deeper than their roster's depth and sense of unity. "This team has a tremendous amount of grit and perseverance," said Coach Matthew Varhley. "The players were excellent during practices and matches. They always played tennis the right way." 
The girls made it to the Group 4 finals where they fell short to the fourth ranked, Marlboro, 5-0. The girls finished their season 17-4 and ranked ninth in the state.