Fortnite takes over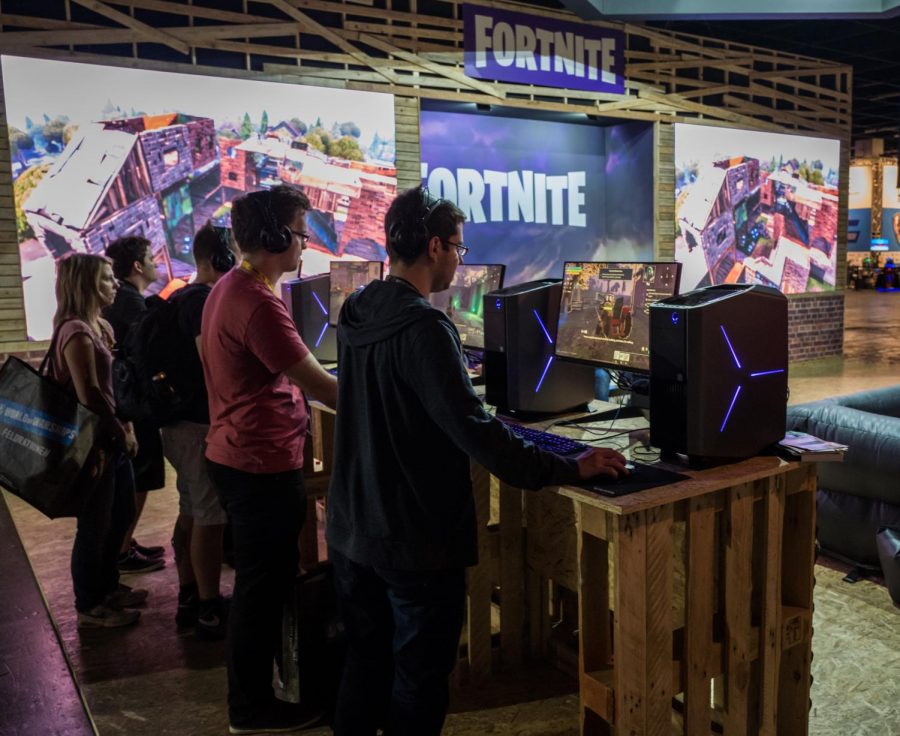 It's a Tuesday night, and WHS sophomore Josh Schuttevaer is in his basement with an Xbox One controller in hand and his eyes glued to the TV. For the last three hours, Schuttevaer has been playing Epic Games' rapidly-growing battle royale shooter game, Fortnite: Battle Royale.
This is not an unusual habit for Schuttevaer on a weeknight, as he claims to play about one to three hours a day. While this may seem like a lot of time for a high school student to be playing video games on a daily basis, Schuttevaer believes he plays moderately. "I know kids who play way more than that, and they'll log like four or five hours a day every day. It's all about the grind."
"The grind" that Schuttevaer refers to is the quest for players to achieve "Victory Royale" in a given online match of Battle Royale. The game has grown in terms of popularity at an alarmingly fast rate since the release of its Battle Royale game mode in September 2017.
And as it's grown, the game has developed an intensely loyal male teen following, featuring large numbers of boys willing to play the game for hours on end. Some will even tell you: They're addicted.
As of February, Fortnite had been played by 16.3 percent of PC gamers, and as of January, more than 40 million people had downloaded Fortnite across all gaming platforms, according to pcgamesn.com.
The premise of Fortnite's most popular mode is to skydive onto an island from a bus and find weapons, materials and supplies that will help players in their quest to be the last person standing at the end of the game. Along the way, each player will encounter up to 99 other players trying to win, and will likely have to fight with them to stay alive.
The concept of the game seems simple enough, mirroring other popular battle royale games such as Playerunknown's Battlegrounds (PUBG) and H1Z1. But what is it about this game that makes it so addicting?
Senior Linus Koglin thinks the simplicity of the game easily attracts new players. "The graphics are simple and there aren't a million different elements to the game," he said. "For the most part it's just basic guns and basic controls, so it's pretty easy to pick up on."
Simplicity in video games has seen success before. Not only does this make the game appealing to gamers new to shooters, but also to the generation of gamers who played building and strategy games, like Minecraft. When Minecraft came out in 2009, its rudimentary graphics and straightforward concept appealed to gamers; as of January, more than 144 million copies had been sold, according to gamezone.com.
Sophomore Jacob LaRue agrees with this theory, adding, "I think the fact that there isn't too much content and there isn't a big learning curve if you've played other shooters makes people want to play because it's easy to catch on to."
Beyond the game's simplicity, it also attracts gamers with its demand for strategy and competition. Unlike other popular shooters such as the Call of Duty franchise, where players can die and instantly respawn back into the game, Fortnite only allows each player one life, making the intensity of the game extremely high. Games can last anywhere from seconds to about half an hour, depending on how far players get. Therefore, when players achieve a "Victory Royale," the sense of accomplishment is elating.
"People feel like they need to win a game every time they play, which makes them play for long periods of time," said freshman Justin Zucker. "Every time you die or lose a game or come close to winning, you just want to get right back in it and try to win."
This obsession to win can sometimes turn into an addiction. "Sometimes if you're playing really well, it can be hard to stop playing because you just want to keep getting wins and completing challenges for the battle pass," said Zucker. "I would say that the game can be very addicting, because you can get so into it and play for like three or four hours non-stop, just completely focused on it. Especially weekends, you could play all day if you wanted to."
Arguably, the deciding factor in Fornite's overwhelming popularity is an element that appeals to all gamers: The game's "Battle Royale" mode is completely free.
"I initially downloaded the game [to my PS4] because a friend told me about it and it was free," LaRue said. "I don't think the game would have blown up to what it is now if it wasn't free, so I think it's a good thing."
Despite the game being free, Epic Games is still making quite a profit from Fortnite. Since its release in September, the game has earned an estimated $233 million across all gaming platforms, according to video game researcher SuperData.
This revenue comes not only from its less-popular "Save the World" game mode, but also from in-game purchases available to all players in "Battle Royale." Items that can be purchased include avatar accessories such as skins and emotes, as well as the seasonal "battle pass," which is a paid set of challenges that allows players to earn in-game rewards. However, none of these in-game purchases affect the competition, as the game states that any purchases made won't offer players any competitive advantage.
Yet another way in which Fortnite attracts players is through online videos led by master players, who have become celebrities all their own. YouTuber and talented Fortnite player Tyler Blevins live streams his gameplay on the streaming site, twitch.tv, and goes by the alias "Ninja." When Ninja live streamed his gameplay with rapper Drake, it attracted more than 628,000 live viewers, shattering the record for any Twitch livestream, according to Twitch. Ninja is no slouch streaming on his own, either, with more than 6.5 million Twitch followers and more than 7.5 million YouTube subscribers.
Senior Sa'id Kharboutli infers that Fortnite has become far more popular because of this publicity. "You could say that Fortnite isn't just about playing," Kharboutli said. "If you look at all the views that Ninja and [fellow Fortnite streamer] Myth get on YouTube and Twitch, it shows that there's a really big following for Fortnite. I'm sure people watch them so they can mimic what they do and get better at the game. The fact that Ninja was able to play with him is also going to give him and the game more publicity."
Schuttevaer is one who finds entertainment in Ninja's videos when he isn't playing Fortnite. "I watched his videos where he plays with Drake and [rapper] Travis Scott," he said. "Personally, I find that entertaining because it's some of my favorite rappers playing a game that I play every day, so I guess it makes them more relatable, and they're playing with one of the best players in the world. It's like they're all celebrities playing Fortnite, so that's going to make people want to watch."
Kharboutli is one of the seemingly few teenage boys at WHS who doesn't play Fortnite. But as he observes this phenomenon, he is reminded of the days when he was an avid PUBG player. While he acknowledges the incredible success of Fortnite, he believes that other games paved the way for it to blossom.
"I think there was a battle royale trend going with H1Z1 and PUBG, and Fortnite created more of an arcadey, fun game while still having the serious elements that a typical battle royale game would have," he said. "But you can easily argue that PUBG primed the battle royale market, and it actually blew up before Fortnite. So I think you can credit PUBG for Fortnite's massive success."
The success of Fortnite naturally raises concerns about the effects video games can have on teenagers. In terms of being a distraction, Social Studies Teacher Mr. Antony Farag believes it is up to the user. "I don't think
more of a distraction than anything else," he said. "If a student cares about their education, they'll manage their time; if not, they'll spend all their time playing Fortnite."
Mr. Farag also understands that video games are an alternate reality, and says that there are risks associated with obsessive gaming. ""I think the only problem is when any video game is used to escape reality," he said. "We have to worry about what reality that kid is escaping to, and then we have to worry about what the symptoms of that escape could be."
Despite these concerns, Mr. Farag is impressed with the success of Fortnite."The game promotes a positive competition," he said. "As long as it's a game and not an escape from reality, then I think it's a good thing."
As the number of Fortnite players increases, the line between escape and game will be debated. At last check, Schuttevaer had logged more than 170 hours on Fortnite. But he isn't worried about the volume at which he plays. "I don't think there's anything really wrong with it because I play during my free time," he said. "And in a way, I am doing something to challenge my brain because of the focus and strategy needed to play."