Junior running laps around competition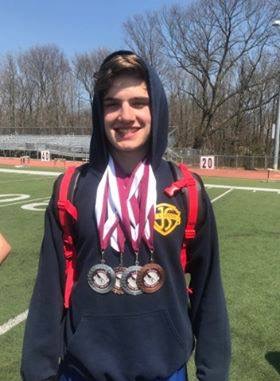 Being a spring track athlete is tough. The season starts with winter-like conditions, then abruptly transitions into spring. On top of that, meets are much more frequent than in the winter, which can lead to added mental and physical stress. Despite these potential difficulties, junior Jake Saltzer has emerged as a dominant sprinter on the track team, regularly breaking personal records and making heads turn.
"The season has been extremely fun; I can't ask for anything better," said Saltzer. "The continuous competition week after week is exhilarating, and it has helped me hit personal records that I never thought I would hit entering the season."
Saltzer has made a living this season in the 400-meter race, breaking 50 seconds multiple times. His most impressive achievement was running 48.6 seconds in the Union County Interscholastic Athletic Conference Relays earlier in May, ranking ninth on the WHS all-time list in that event.
Saltzer's performance on the track has been the boost that the team was looking for entering the season, since many of the varsity sprinters graduated last year. Not only has Saltzer excelled as a sprinter, but he has also emerged as a strong leader and role model for the entire team.
"Jake is a great example for the team because he shows what is possible one year to the next if you commit yourself to the process," said Head Coach Chris Tafelski. "After seeing Jake's performances, the lesson for everybody else is a year from now, look what you can accomplish if you put your heart into the sport."
Saltzer looks to continue his successful season at the North 2 Sectionals on May 25. "I still want to improve upon my own performance even though I have met goals that I never thought I was going to reach," he said. "I look forward to going above and beyond."