The Addams Family Reunion
Thousands expected to unite to celebrate Charles Addams' legacy
October 29, 2018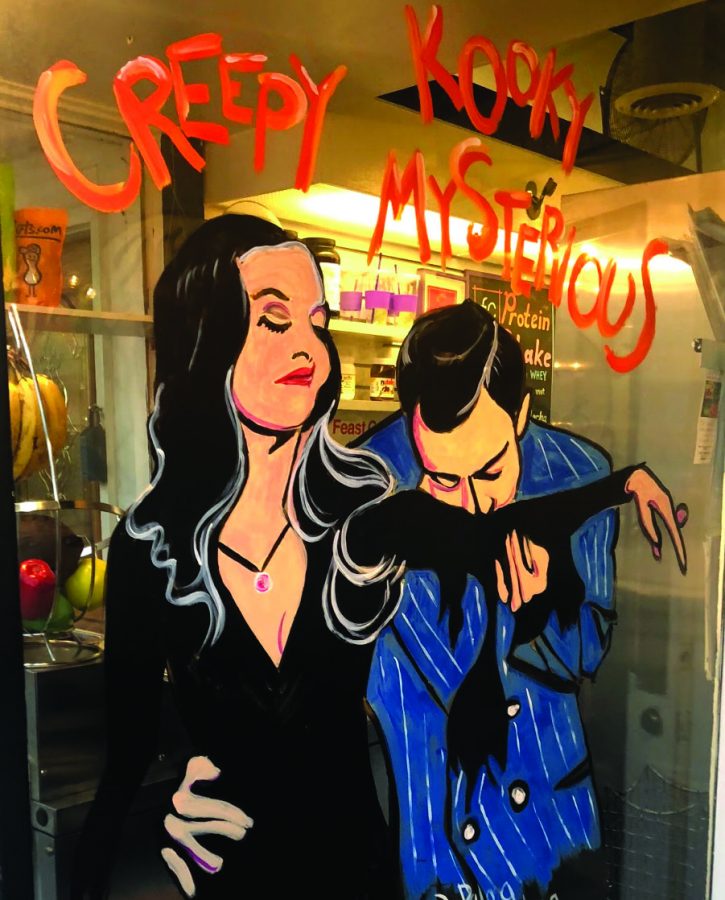 Photo by Adam Holtzman
The creepiest, kookiest, all-together ookiest event has arrived in Westfield and many have a reason to be excited. From Oct. 26-28, downtown Westfield will host the first ever AddamsFest, an entire event dedicated to famed cartoonist Charles Addams who called Westfield home. Addams is known for creating the cartoon The Addams Family, for which he used his hometown as inspiration for the Addams Family mansion and characters.
"I think you can see a lot of the excitement building in town. I am just very excited for us to have an opportunity to bring the community together to celebrate something about our shared history," said Mayor Shelley Brindle.
Ms. Adrian Pastore, who volunteered to take on the role as Executive Director of AddamsFest, said, "This event has been in the works since February, and it's extraordinary to see how it has evolved into the final product. It's a perfect example of a community coming together to make something great together."
The event was initiated by Mayor Shelley Brindle and Councilwoman Dawn Mackey in an effort to unite the community. As mayor, Brindle has advocated for Westfield to have its own niche, something that makes the town unique. She wants residents of Westfield to take pride in their community, and AddamsFest was a place to start. She came up with the idea of AddamsFest specifically after reading the book, What I Found in a Thousand Towns, by guitarist Dar Williams, which illustrates how towns, big and small, have made their communities special.
Alongside the desire to strengthen the community, Brindle also sees AddamsFest as a perfect opportunity to market the town. Thousands of people will be attending, so this increased traffic will help downtown businesses. "We want people all weekend to go to events and hashtag AddamsFest or Westfield, New Jersey so that their network of friends will say 'Wow, they live in a really cool town,'" Brindle said. "We think that the best marketers of the town are the people who live here."
The AddamsFest-ivities officially commenced Oct. 5 with the illumination of Mindowaskin Pond in an iconic Addams Family purple. Since then, residents have spookily transformed their homes to compete in the "Haunt your House" contest and storefronts in downtown Westfield have been decorated in Addams Family fashion.
The main three-day event is jam-packed with events for all ages. There will be a Kid Fun Zone in Mindowaskin Park and Pugsly's Trunk-or-Treat for kids at the South  Ave. train station. For teens, there is "Chill on Quimby," a hangout area that will feature live music, food, games, and performers. Also, there is an Ale Garden exclusively for adults. Brindle said she cannot wait for the opening ceremony on Oct. 27 at 10:30 a.m., where she will bestow the first ever Skeleton Key upon a worthy Westfield resident.
AddamsFest is also featuring many pieces of Charles Addams' original art. The highlight of the exhibit is the famous skeleton that he drew almost a century ago on the wall of a barn on East Dudley Ave. A whole team was tasked to remove the drawing from the wall without altering the piece, and it is now showcased in the James Ward Mansion for all to see.
The Rialto Theater will exclusively screen episodes of The Addams Family television shows, The Addams Family movie, and documentaries about Charles Addams and some of his characters. In addition, there will be screenings of the cult classic Rocky Horror Picture Show on Oct. 27 at 10 p.m. and midnight.
Pastore is especially excited for the movie, as the film garners a remarkable fanbase of people who know every line, dress up in costumes and even bring props.
One can also take a tour of the historic Reeve House on Mountain Ave, which is believed to be haunted. In fact, when paranormal investigators came to check out the house, they were blown away by the presence of ghosts or spirits. Pastore accompanied the paranormal investigators and now she firmly believes in ghosts.
Possibly the highlight of the event is Morticia & Gomez's Masquerade Ball on Oct. 26 at 8 p.m., where attendees will dress up in their best costumes, walk the purple carpet and enjoy the night in the James Ward Mansion surrounded by Addams' original art. Tickets sold out two weeks prior to the event.
Perhaps the most impressive aspect of the event that goes unnoticed is the support of the community. Hundreds of volunteers have already pledged to dedicate their time to make sure the event runs smoothly, and more are expected to show up to help out. Groups and local teams volunteered to paint storefronts, 70 WHS students entered the Charles Addams Cartoon Contest, and hundreds have donated money to the event.
Brindle and Pastore are extremely optimistic about the first ever AddamsFest and believe that this will not be the only one. "We want AddamsFest to be an annual event," said Brindle. "And with the response from the community we have gotten so far, it looks like the event will be a success."