WHS honors Black History Month
Dr. Randal Pinkett inspires trailblazersWHS honors Black History Month Dr. Randal Pinkett inspires trailblazers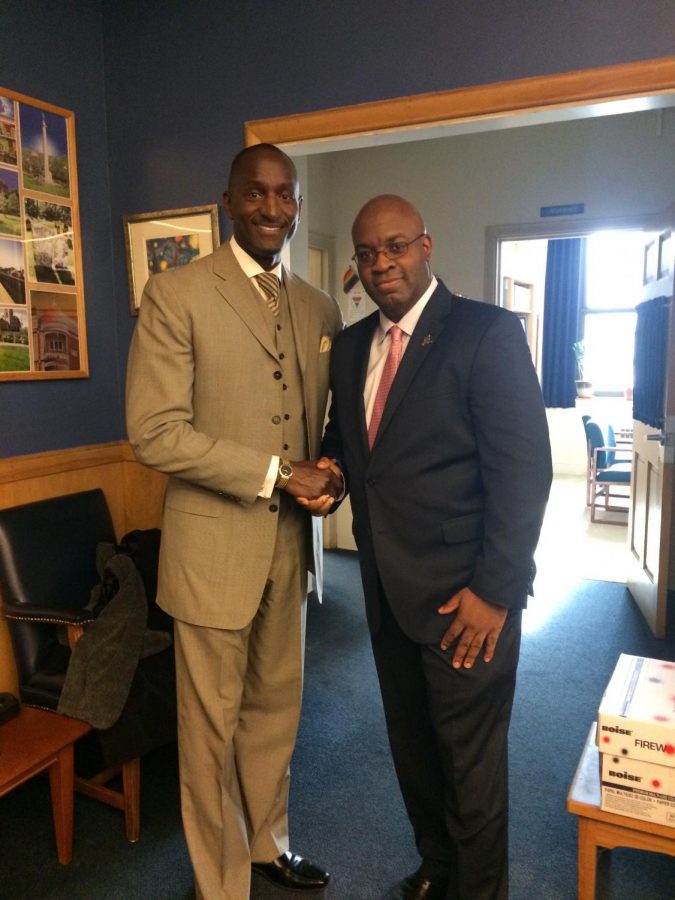 On Feb. 1, WHS kicked off Black History Month with a school-wide assembly hosted by the WHS Diversity Awareness Committee. The committee, headed by Media Specialist Lesley Cora, is a group of teachers and administrators with the goal of promoting diversity.
The assembly started with the WHS Choraleers singing two powerful songs with strong African-American roots: "Ain'a That Good News" and "MLK."  Their first song "Ain'a That Good News" was sung by slaves on plantations as a way of expressing their repressed emotions, and "MLK" is a song by U2 which was inspired by MLK's legacy of civil disobedience.
Following the choir's performance, African-American businessman Dr. Randal Pinkett took the floor. Dr. Pinkett is not only the chairman, CEO and founder of his current business, BCT Partners, but he is also the first African American to receive the Rhodes Scholarship from Rutgers University and, out of a million applicants and 18 competitors, he was the first African American to win the television show The Apprentice.
He draws two lessons from these experiences: "believe in yourself" and the "power of encouraging others." In a Hi's Eye exclusive interview he said, "When I see potential in someone, I try to encourage them to take the opportunity, because you never know what might have been up for them."
He encourages WHS students to not underestimate themselves and their abilities."Don't say that ordinary people can't do extraordinary things," he said. "Because it's not only a disgrace to those who accomplished those things, but it is also a disgrace to yourself."
This quote was one of many that was memerable in his presentation. Throughout the speech, Dr. Pinkett made an effort to not only make an impact but to also be a relatable figure. His honesty was both humorous and engaging as he made a point to include personal details about his life and his wife, or "Boo Boo," as he calls her. He also showed his strong rhetorical power through his use of mesmerizing spoken word poetry.
Dr. Pinkett humanized himself by admitting that he has faced many testing trials in his life. From his father passing away at a young age to the fact that his first four businesses failed, Dr. Pinkett made it clear that perseverance. He defines success as being able to go "from failure to failure without losing enthusiasm."
Dr. Pinkett is also an author, his most notable book being Black Faces in White Places, which lays out 10 strategies to help African Americans succeed in a predominately white workforce.
Dr. Pinkett knows this struggle quite well as he's faced it not only in his professional career, but throughout his education as well. He attended a predominantly white high school, where he often felt isolated and struggled to find his identity. However, as an adult, Dr. Pinkett has found strength in African-American trailblazers.
In his speech, he referenced many African Americans who made history, such as Dr. Martin Luther King Jr., Frederick Douglass and Malcolm X, as well as the sacrifices they made to further equality in America. When regarding these individuals and their achievements he applauded their ability not to take the road less traveled, but rather the "road never traveled," a spin on the famous Robert Frost poem.
"[Your history] will reaffirm you," Dr. Pinkett said. In honor of Black History Month, he encourages all African Americans to remember that "to know your history is to know your future."