Boys 4×400 relay makes school history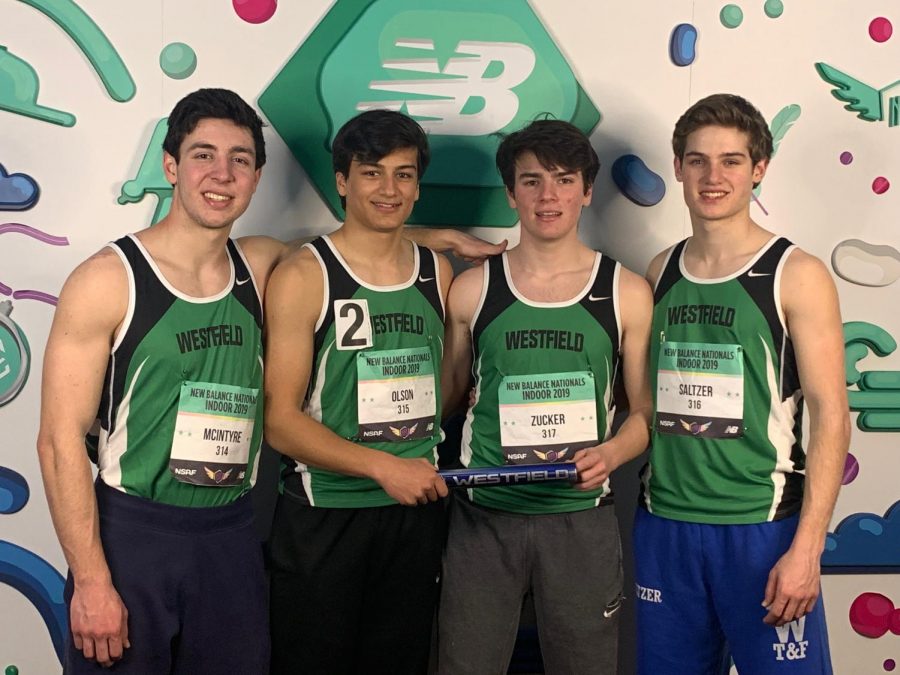 A few seconds, a few fractions of a second, go by in the blink of an eye. But, for the WHS Boys Winter Track and Field 4×400 meter relay team, that time is the difference between an average race and making school history.
For the first time in WHS history, the team comprised of seniors Jake Saltzer, Ajay Olson, Matt McIntyre and Steven Zucker took first place on Feb. 23 at the Meet of Champions (MOCs) for the 4×400 meter relay, with a time of 3:24.29.
"Winning [MOCs] felt surreal," said McIntyre. "It's definitely a feeling and experience I will be able to look back on for the rest of my life."
Their monumental win was the product of a winter season full of intense workouts and school-record-breaking races, as they came into MOCs with a first place win from Group Championships the week before, where they had broken the indoor school record. More importantly to their success, however, was the bond formed between the four members and their coach.
"We put in the work at practice day in and day out, working on all of the little things," Saltzer said. "The chemistry we have between us is outstanding, so I think that's something that sets us apart from a lot of other teams."
Boys Track and Field coach Chris Tafelski noticed the potential for a championship-winning 4×400 meter relay last spring, but the pieces, he believes, truly fell into place this winter.
"The thing I'm most proud of is how they got there," Tafelski said. "It's one thing to know what you need to do differently to raise your game against better competition, it's another thing to go out and do it when you only get one shot."
Their impressive season came to a close on March 10 at New Balance Nationals in New York City, where the 4×400 team placed ninth in the U.S., and broke the school record yet again with a time of 3:22.18.
There's no doubt that their winter success will carry over and set them up for a rewarding  spring track and field season.
https://www.nbnationalsin.com/eprofile.php?event_id=1164&do=videos&video_id=269937