Sing To Me Instead
Ben Platt's debut album speaks to the heart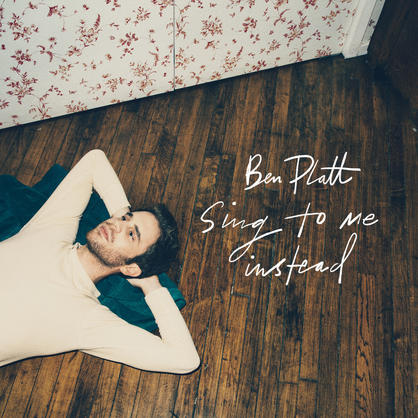 Ben Platt has mastered the art of singing songs that touch the souls of listeners, with his heart-wrenching portrayals of the title character in the Tony Award-winning musical Dear Evan Hansen, and Benji in the first two Pitch Perfect movies. Platt's debut solo album Sing to Me Instead, which was released on March 29, continues with this theme as all 12 songs reach into the hearts of listeners.
Platt has been performing in movies and theater since he was nine years old, so it can be inferred that he has had a lot of practice when it comes to portraying a character. However, Sing to Me Instead gives Platt the opportunity to tell his own story, and share the experiences that have made him who he is today.
The 12 songs which comprise this album, all written or co-written by Platt himself, reference the three major romantic relationships that have shaped him. The songs are personal and honest, yet carry a sense of familiarity and comfort to listeners, as everyone can relate to the highs and lows that come with love.
The first single that Platt dropped prior to the album's release was "Bad Habit," which is a painful declaration of knowing you're not meant to be with someone, but that you always find yourself going back to them whenever you want to feel good again.
"New" is a song that has an upbeat tempo and describes the moment when Platt felt happy after a breakup and understood that he was better off now that the relationship had ended.
"Grow As We Go" shares Platt's emotional story of coming to a crossroads in a relationship where both people know they aren't meant for each other right then, and that they need to take time apart in order to grow on their own.
Another song that will tug on your heartstrings is "In Case You Don't Live Forever." This song is a ballad where Platt tells someone "everything they mean to [him]," and how deeply he loves them. Platt even goes as far as to say that he is "everything [he is] because of [that person]." This song embodies the soulfulness of the album, as it is honest and vulnerable, and allows the listener to feel the strong emotions and thoughts that Platt has experienced.
"Older" is a bittersweet song where Platt reveals his desire to be older and have life find him. In this song, Platt meets an old man who assures him that life will find him when it is supposed to and tells him that when he is older, he will wish he was younger and had lived life more freely and with more love. "Older" is a reflective song that people of every gender and age can relate to.
The earnest vocals and honest lyrics of these songs allow Sing to Me Instead to reach listeners in such an open and pure way that they feel connected to the songs, and even to Platt himself. The songs are simple in reference to their acoustics and melodic choices, yet they are also complex due to the subjects that Platt chooses to sing about: love and loss.
This album is one of the  most vulnerable albums that I've ever heard, and in a society where we are surrounded by artists who sing about materialistic and meaningless subject matter, Platt's album offers a much-needed breath of fresh air.