Back and better than ever
Woodstock returns for its 50th Anniversary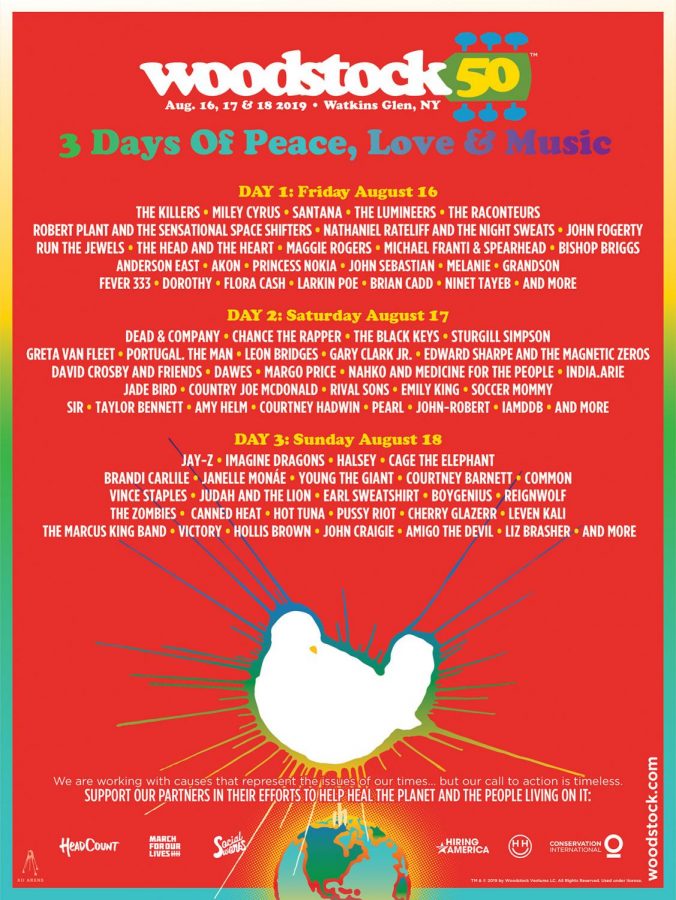 Three days of peace, love and music. Fifty years after its historic debut, Woodstock is returning to the music festival stage preaching this same important message.
Occurring Aug. 16 through Aug. 18 in Watkins Glen, NY, the Woodstock Music and Arts Fair 2019 is presenting Woodstock 50 to commemorate the 50th anniversary of the original Woodstock. Woodstock 50's goal is consistent with what it was in 1969: to bring people together with compassion and show that we all can live in harmony. This year's lineup also features well-known artists such as Miley Cyrus on day one, Chance the Rapper on day two, and Jay-Z on day three, among many others.
The year 1969 was marked by the rise of counter-culture and involvement in the Vietnam War, while also being within the era of the Civil Rights Movement. Due to this, Woodstock became an opportunity for people to spread a message of unity and the music acted as their escape from society—even if it was only momentarily.
Although the times are different, Woodstock 50 hopes to preserve the festival's historical significance of inspiring positive change. According to woodstock.com, Woodstock 50 is about more than just the music, it is about "supporting causes that represent the issues of our times… but our call to action is timeless."
What makes this festival so influential even after 50 years have passed is its commitment to healing the planet and the people living on it. Attached under the "mission" tab of woodstock.com, there are links to various organizations that the festival is teaming up with. These organizations range from March for Our Lives which is working to put an end to gun violence, to Conservation International which is protecting nature for the benefit of all, to the Felix Organization which is enriching the lives of children in foster care. Regardless of the diverse causes, each organization illustrates the uniqueness of Woodstock and how it will continue to be the same powerful instrument in 2019 as it was in 1969.
Now more than ever we need this reminder that peace and love amongst all is possible within our increasingly polarized world. As in 1969, society is fighting the rise of violence and bigotry, and as history is repeating itself in this sense, one can only hope that the Woodstock festival will be as effective as it was in the past.
When attending Woodstock 50, people will not only be there to listen to the amazing music of these talented artists, but they will be there to celebrate the power that music is capable of having on society. Woodstock 50's partnerships with these organizations will lead the festival-goers to believe that their presence is having a larger effect on the world, whether they are restoring the sight of an individual through Seva or protecting dolphins through the Dolphin Project. No other festival is as far-reaching as this one is with its focus on music alongside the importance of culture and community.