Surf's up!
New action sports club takes off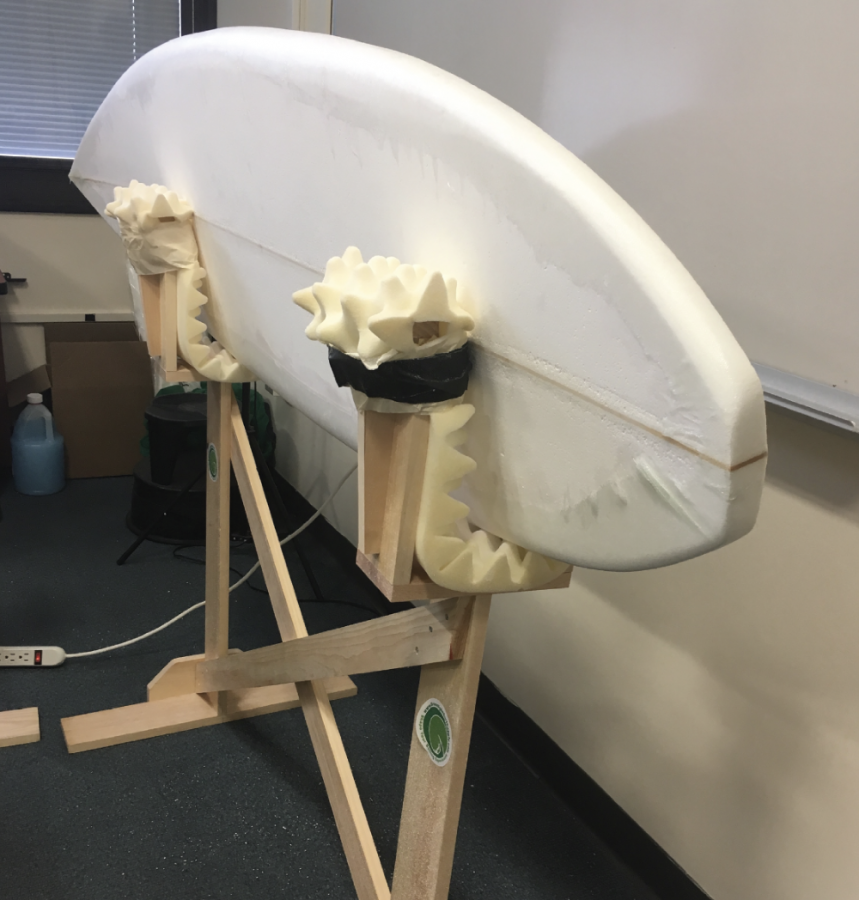 "Design. Make. Use." These are the three steps WHS History Teacher Adam Pizzi promotes with the creation of the all-new Action Sports Design Club. From start to finish, Pizzi dedicates his time with club members to design and build practical sports equipment to use in action sports.
While a student at WHS, Pizzi spent a lot of time skiing. Since WHS did not provide the opportunities to pursue action sports with the high school, he did not get to have the same experience as he did with high school tennis. Ultimately, this is what pushed him to create the ASDC and grant students the high school athletic opportunities in action sports that he never had.
ASDC is made for students who participate in action sports and wish to connect that passion with school. It welcomes students who have been looking for a creative sports club where no experience is required. Club members work together to create their own usable equipment including surfboards, skis and skateboards. Pizzi would eventually like to work with the club on marketing and selling their equipment as well.
Currently, the club is working on creating their own surfboards. After purchasing blank boards and other supplies, the students worked on their surfboards for months to follow.
Along with following a "How to Build a Surfboard" guide, the students started from square one and are learning as a team to build their masterpieces. They have also received a lot of help from Industrial Arts Teacher Jim Hart and Substitute Teacher Jim McDonald.
"It's an opportunity to create something with our hands and tools which leads to understanding other aspects of life such as measuring and proportion," said club member and WHS junior Nina Martini. "[The club] gives us the opportunity to create and do something that we are passionate about."
Pizzi describes the club as "a big commitment" and although this process requires a great deal of responsibility, ASDC is a club where things get done and accomplished.
In the future, Pizzi hopes to turn the ASDC into a design or small business class at WHS. He hopes that students will be given the opportuity to combine entreprenuership skills with their passion for sports.
The Action Sports Design Club hopes to draw in students who want to develop a new skill or hobby. Whether you're looking for a new experience or want to learn more about the design, marketing and selling process, this may be the club for you.