Welcome back Gary Kehler Stadium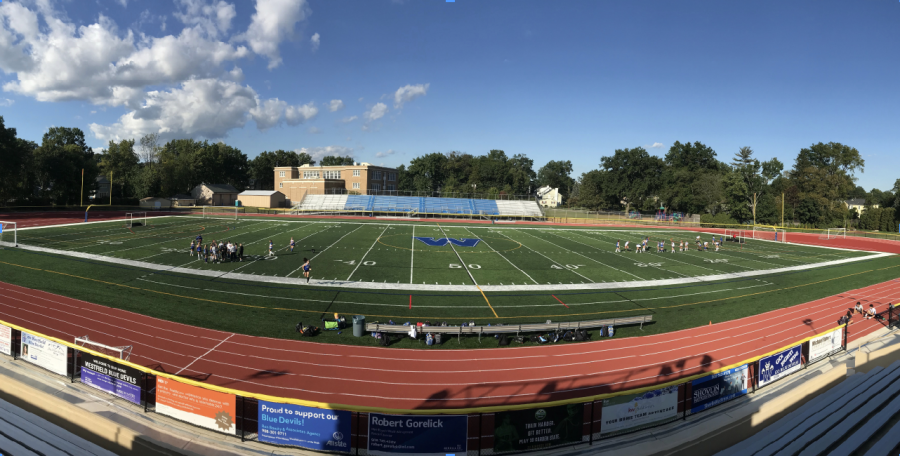 From big game days to the annual pep rally, WHS students can find themselves spending countless hours at Gary Kehler Stadium. The stadium recently underwent a seven-month renovation, which included the installation of a new track and turf field as well as the refurbishment of the bathrooms and bleachers, totalling $3.03 million.
Westfield rededicated its stadium to the late Gary Kehler, a Westfield athletics coach for over 20 years, during halftime at the varsity football game on Sept. 21. Surrounded by Kehler's family, his wife Alice Kehler cut the ribbon, officially marking the opening of the new stadium.
Not only does the stadium look great, but it will also contribute to exceptional results. Senior soccer player John De Sena said, "The new turf field is much nicer to play on. The worst part about [the old field] was that if you fell, you were 100 percent going to get nasty turf burn and scrapes from it." De Sena added that the new turf field helps boost team morale. "The new upgraded environment makes us feel like a more professional team."
Sophomore football player James Csorba commented that the new turf field will definitely enhance game play. "[The new field] makes us feel fresh and will help improve our overall performance," said Csorba. "The old field simply had to go; it was like playing on concrete."
Similarly, the track team is expecting improvements on the new surface. Senior Sloane Slusher said: "The condition of the old track was very poor and it was hard compared to the new track. The new surface can prevent common injuries like shin splints because it's softer and bouncier. Meets will also be more exciting, especially the Blue Devil Classic which we couldn't hold last year because we didn't have a track."
Although the stadium was a long time coming, it was definitely worth the wait.