In October, athletes wear pink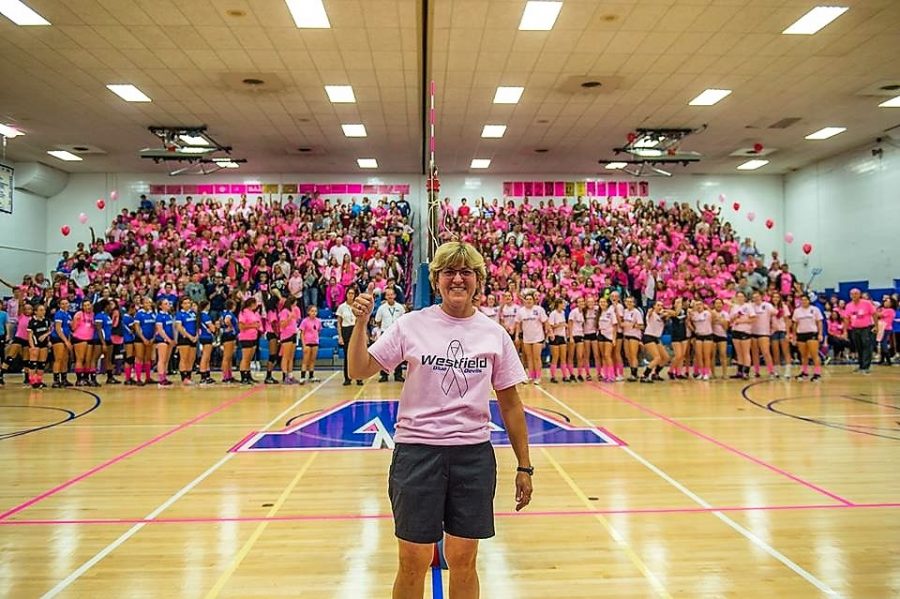 Ladies and gentlemen, clear your schedule for tonight, Oct. 11th. This year is the 11th annual Pink Out volleyball game, brought to you by the WHS volleyball program.
Most people in the WHS community are aware of the annual Pink Out game and that it occurs in October for breast cancer awareness month. However, most are unaware of its origins.
Varsity Volleyball Coach Beverly Torok was diagnosed with breast cancer in 2007. Torok, who was an avid volleyball player in high school and made the Rutgers volleyball team as a walk-on, has always had a passion for volleyball. There was no doubt in her mind that she would want to coach volleyball at WHS when she earned her teaching position. She is a charismatic and energetic coach that is always cheering for her team, but when she was diagnosed with breast cancer, she knew it was time to take a break. Torok left school on medical leave for May and June of the 2007-2008 school year.
When she returned for the 2008-2009 school year, her health improved, but she was still tired and not her normal self. That volleyball season was different for her, as she wasn't able to be as peppy as she normally was. Torok took that season slowly and hoped that the next year would be better.
When the 2009 season came around, Torok was back on her feet and had her game face on. Her players were happy to see their lively coach again. However, they wanted to show their support for her and make others aware of the struggles Torok had recently overcome. Thus, the 2009 season gave birth to Pink Out. All of the parents and players, especially the original captains, Gab Cerami and Danielle Cofone, made this meaningful event popular.
As the first team captains to organize the event, they came up with ideas to offer raffles, contests and silent auctions to raise money for the cause. As a team, they created t-shirts and added a serving contest to the night-long event. The team was motivated to make Pink Out a night that everyone would remember as well as an event to raise as much money for breast cancer awareness and research as possible.
Throughout the years, each team would continue the tradition of Pink Out. As fresh ideas came in, new ways to raise money took place. The volleyball teams would rake leaves and solicit local businesses for donations.
Over the last 10 years the Pink Out game has brought in a total of $219,200 in donations. The money raised is given to The Susan G. Komen Breast Cancer Foundation, who then transfers it to the North Jersey chapter which helps those who are less fortunate with mammograms and other treatments.
A more recent tradition that was created to help raise money was "flocking." "If you get flocked, somebody comes and puts pink flamingos in your front yard and leaves a sign that says 'WHS supports breast cancer awareness,'" Torok explained. "Then, players leave out a folder where the residents of the house are supposed to donate and write the name of someone they want the players to  'flock' next. This is a simple yet fun way to raise money throughout the month of October."
This year, senior captains Stephanie Margolies, Uzi Ijoma and Lydia Nisita are preparing for the upcoming event. As Pink Out approaches, Margolies expressed her appreciation for the event: "It's really in honor of [Torok] and all of the other people that are still fighting breast cancer. We really want to help find a cure so we solicit and raise a lot of money in order to help other people afford treatment."
This year, WHS will play Bridgewater-Raritan High School. Freshmen will play first, followed by JV. The legendary serving contest will then occur before the varsity team takes the court, and the night will end with raffles.
Pink Out is an event you don't want to miss. Not only is it a great night to watch volleyball and win prizes, but it's an amazing way to raise money for breast cancer awareness and show support for Torok and the volleyball teams.