WHS girls tennis team secures sectional championship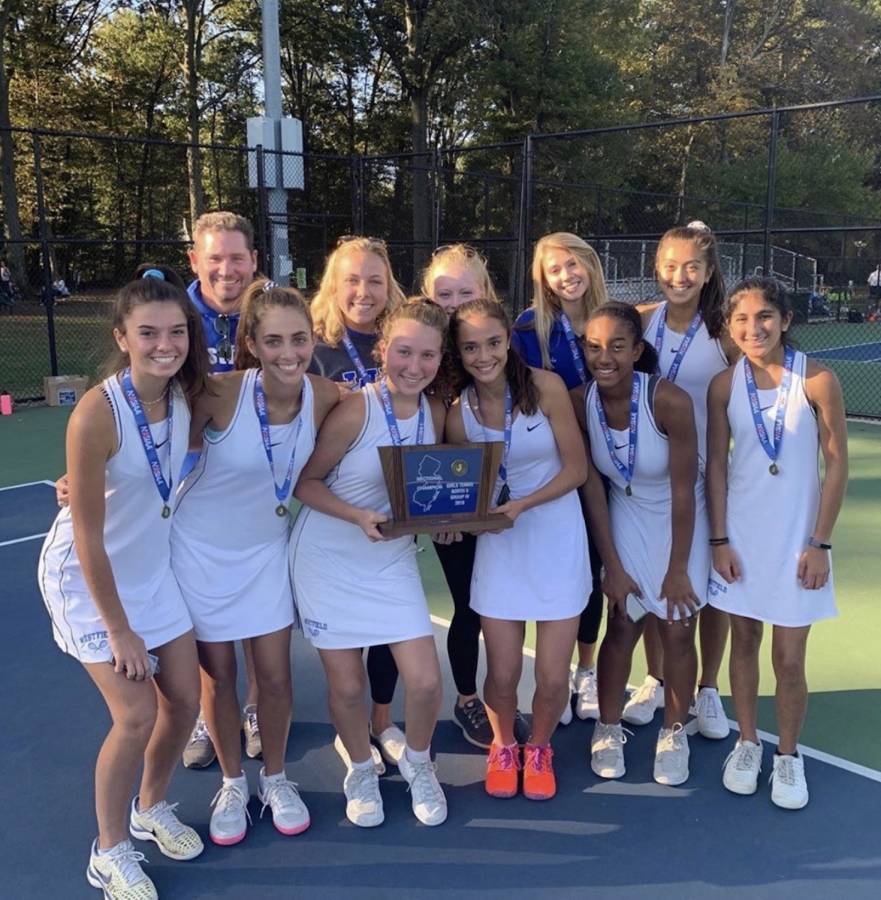 On Oct. 14, the WHS girls tennis team defeated J.P. Stevens High School 4-1 in the NJSIAA North Jersey, Section 2, Group 4 tournament final. The win for the top-seeded Blue Devils marks their first sectional title since 2010.
"This sectional championship is a huge milestone for the program," said Senior Captain Ava Paul. "All of the teams in the past couple of years have had other amazing successes, but this is definitely one that stands out. To be the first team in nine years to win the sectional championship really sets our team apart from other years, and that is something really special."
Westfield (16-4) had strong performances from singles players Sophia Montero, Natalie Zelechowski and Katey Peretz. The doubles team of Mia Fleming and Payton Silverman additionally contributed to the win for the Blue Devils.
One of the storylines for the team this year was that it lost many seniors who graduated last year and had only a few returning varsity players coming into this season. However, Head Coach Matthew Varhley believes that despite not having an experienced roster, his young team was still able to have tremendous success. "While we graduated seven seniors last season, we replaced that leadership, experience and talent with four new seniors and five freshmen, sophomores and juniors," said Varhley. "The new senior leadership coupled with a young starting lineup did an incredible job supporting each other throughout the season."
Another reason for the Blue Devils' success, according to Montero, was the bond the team had. "I think our team was so strong because we all became closer, which made it more comfortable to play and be around everyone," said Montero. "We all worked hard during practices and progressed so much together."
The historic season for Westfield came to a close on Oct. 18 after being defeated by East Brunswick High School in the NJSIAA Group 4 tournament semifinal. "The idea for us is to build on this season's success and hopefully have an opportunity to defend our championship next year," said Varhley.