Walk a mile in Grace Endy's shoes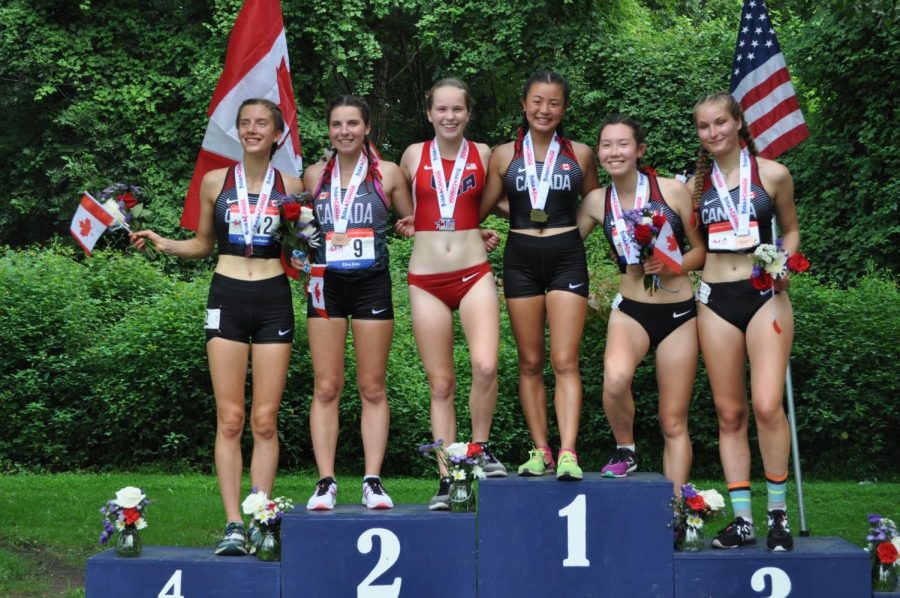 Mexico, Costa Rica, Philadelphia. While these are all popular tourist destinations, these places are also home to the best race walking competitions in the world, all of which WHS junior Grace Endy has competed in.
A member of WHS' cross country and track team, Endy's skills expand past the traditional running events and include race walking. Race walking is an Olympic sport that differs from running, as the runner must keep at least one foot in contact with the ground at all times. Inspired to try race walking after witnessing her older sister's success, she has developed a deep passion for the sport and her talent is being recognized on a national level.
Her career with Team USA started earlier this year when she was asked to join the team for the Pan American Race Walk Cup. "My first event that I raced for Team USA was in Mexico," said Endy. "That was based off of a time standard, so you had to get below 53:15 for a 10k and I had that, so they contacted me and I wasn't going to say no."
Despite the race walking team constantly changing depending on the competition, requiring racers to requalify for the team, Endy has been asked several times to represent the U.S. in red, white and blue. She has competed at the Pan American Race Walk Cup, Pan American U20 Championship and the U.S. versus Canada race walk dual meet, placing 10th, 13th and 2nd respectively.
Endy emphasizes that the people she meets along the way are the best part of the competitions. "For Mexico it was only a race walking competition, so I got to meet a lot of other people who do race walking as a career from the U.S. as well as other countries, so that was really cool. And then in Costa Rica, I got to meet a lot of high-level students who are the best in the nation at their event," said Endy.
Endy is looking forward to a future full of running, hoping to run in college whether it be Division III or club. As for race walking, "who knows, maybe I'll try for the Olympics," said Endy.
Despite the difficulties of finding coaches for the sport, Endy encourages people to try it. Many people are unfamiliar with race walking, which can lead to some mocking, according to Endy. Regardless, she encourages others to give the sport a try. "Look past [the mocking] and focus on the form; form before speed," said Endy.