Lax under new leadership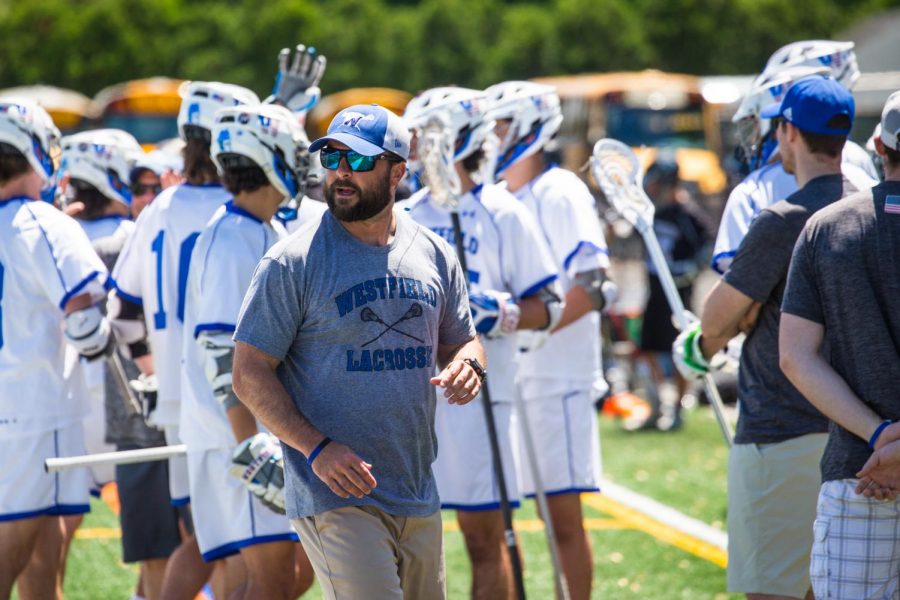 While winter sports are starting up, spring sports are hitting the gym to prepare for their upcoming season. The Blue Devils boys lacrosse team is excited to play on the new turf at Gary Kehler Stadium, but that's not the only new thing they're looking forward to: Physical Education Teacher William Wertheimer is now the head coach of the varsity lacrosse team.
Wertheimer, who happens to be a WHS lacrosse alum, has been coaching at WHS for the past eight years. He coached JV lacrosse for two years and then became the assistant varsity coach for six years. After Head Coach Patrick Tuohy took the lacrosse coaching job at Stevens Institute of Technology in Hoboken, NJ, Wertheimer was the clear choice for the new head lacrosse coach at WHS.
The team is excited to have Wertheimer as their coach. Senior Captain and Princeton lacrosse commit Colin Freer shared his thoughts on the upcoming season with the new coach: "He most definitely deserves this opportunity, as he has been part of the program for years now," said Freer. "He's a great coach and more importantly a great guy. Having a coach like Wertheimer that every player wants to play for and enjoys playing for is key, and we are lucky enough to have that this year."
Freer isn't the only one that feels this season will be special. Wertheimer himself also believes that this season will be amazing, due to the fact that he's already built relationships with the players through the Westfield Lacrosse Club when they were younger.
Wertheimer has decided that this season they are going to continue  a  tradition they started last year. Wertheimer's plans for the team entail fostering a strong work ethic, in which senior players who have worked hard throughout the week will be chosen to represent the team during the following game's coin toss.
Wertheimer is looking forward to his first season as head coach. "I can't wait to take these players to the next level and not just help them become better lacrosse players," Wertheimer said, "but good young men as well."