Captain Q&A: Abby McKinney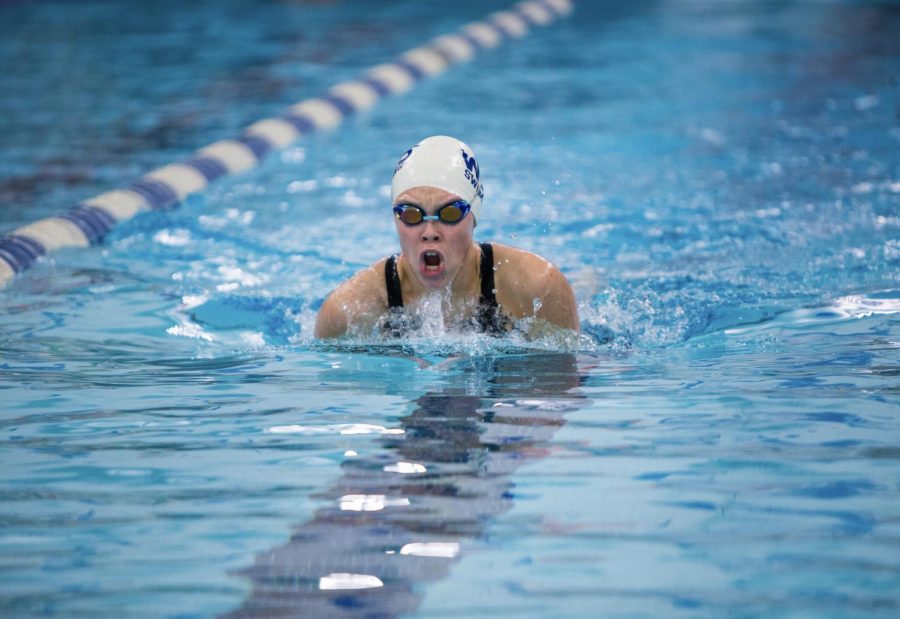 The WHS girls swim team ranked 7th in the state is currently standing undefeated at 7-0 and at the top of its conference as of Hi's Eye's print deadline. Senior Captain Abby McKinney, who recently committed to the University of New Hampshire to continue her athletic and academic career, sat down to discuss her recent breaking of a school record as well as the progress of the team this season.
Q: What inspired you to first start  swimming competitively?
A: It all started when my mom put me in swim lessons at the YMCA when I was three years old. I was in lessons when the instructor asked me to join the swim team; I was eight years old and the rest is history. As the years went on, I started to fall more in love with the sport.
Q: What is your favorite memory being on the team?
A: One of my favorite memories is when I broke the school record in the 100-meter fly at our meet against Scotch Plains earlier this year. What made this moment super special was the amount of support and happiness I received from my teammates.
Q: How do you prepare for a big meet?
A: The team prepares for a big meet by having a psych party the night before and wearing crazy psych wear the day of. I personally like to listen to music with my friends before a big meet.
Q: What does your commitment to continue to swim in college mean to you?
A: Swimming has been a big part of my life for the past 10 years and I couldn't imagine my life without it. It means so much to me to have the opportunity to swim in college because it means I get to do the thing that I love while still getting a great education.
Q: What are your goals as a team this season?
A: Our goal is to win the county championship. We got second place last year by just a couple of points, so we are working really hard to accomplish this goal and I believe that we are on the right track!