Jagged Little Pill takes on Broadway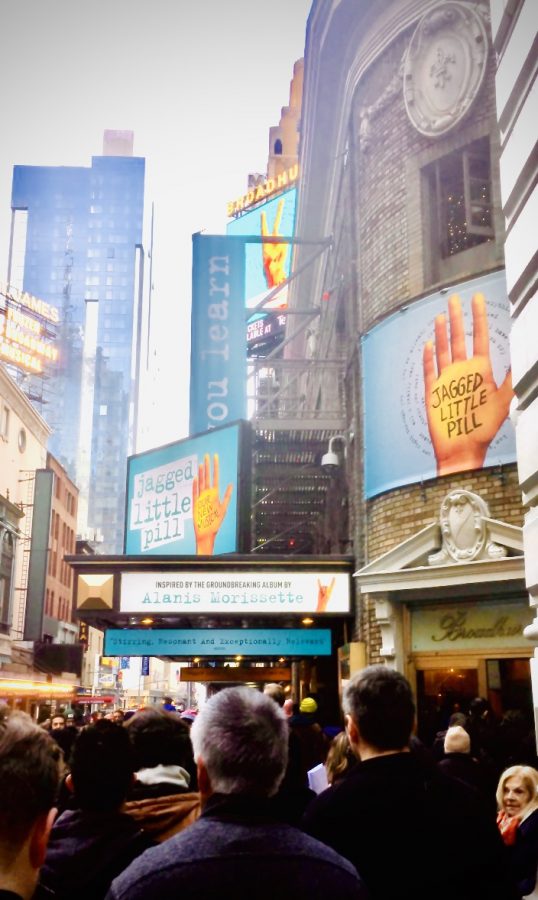 Emma Karp, R1 Features Editor
January 27, 2020
The lights dimmed and the curtains opened to Broadway's newest debut, Jagged Little Pill, which first previewed at the Broadhurst Theater on Dec. 5. This emotional and heart-wrenching musical, based on the music of Alanis Morissette's 1995 breakthrough album, Jagged Little Pill, depicts powerful themes including adoption, love, LGBTQ+ acceptance and sexual assault. Featuring the popular songs "You Learn," "Ironic" and "Head Over Feet," the audience was swept up in familiar tunes brought to life before their eyes with a modern-day storyline.
The musical opens to a seemingly "perfect American family" including a cast of imperfect characters that the audience can relate to with ease. Mary Jane Healy (Elizabeth Stanely) is a loving, yet struggling addict mom who puts on a facade. Her husband Steve Healy (Sean Allan Krill) represents the overworked dad who's not always around for his family but desperately wants to connect with them. Nick (Derek Klena) is their "perfect" son heading off to Harvard struggling with certain decisions and their daughter Frankie (Celia Rose Gooding) is an adopted African American teen who is a rebellious girl who wants to save the world. The actors portray anguish, love and determination, and I found myself with a lump in my throat for most of the musical.
During Act II, Frankie's best friend and secret girlfriend, Jo (Lauren Patten), takes the stage alone and performs "You Outta Know," a song once about Morissette's boyfriend that morphed into a 21st-century queer anthem. In the song, Jo laments her experience as a lesbian who is not accepted by her mother and was just betrayed by her best friend. Her pain is so present that when she sings the lines, "I want you to know, that I am happy for you. I wish nothing but the best for you both," the crowd instantly rose in cheers. This standing ovation in the middle of a musical is something that I have never witnessed in a show before.
JLP portrays today's most talked about topics and presents them in a way that evokes empathy and compassion. The musical is inspiring and helped me understand the chaos that goes on in the world behind closed doors that I might not always be aware of.
Many of the actors are experiencing their Broadway debuts with this show as well. For this reason, my stage door experience, getting selfies with every actor, was also a highlight of my Broadway experience.
I would highly recommend this show to anyone who appreciates a modern take on a classic album fit for Broadway.