Superfans support WHS athletics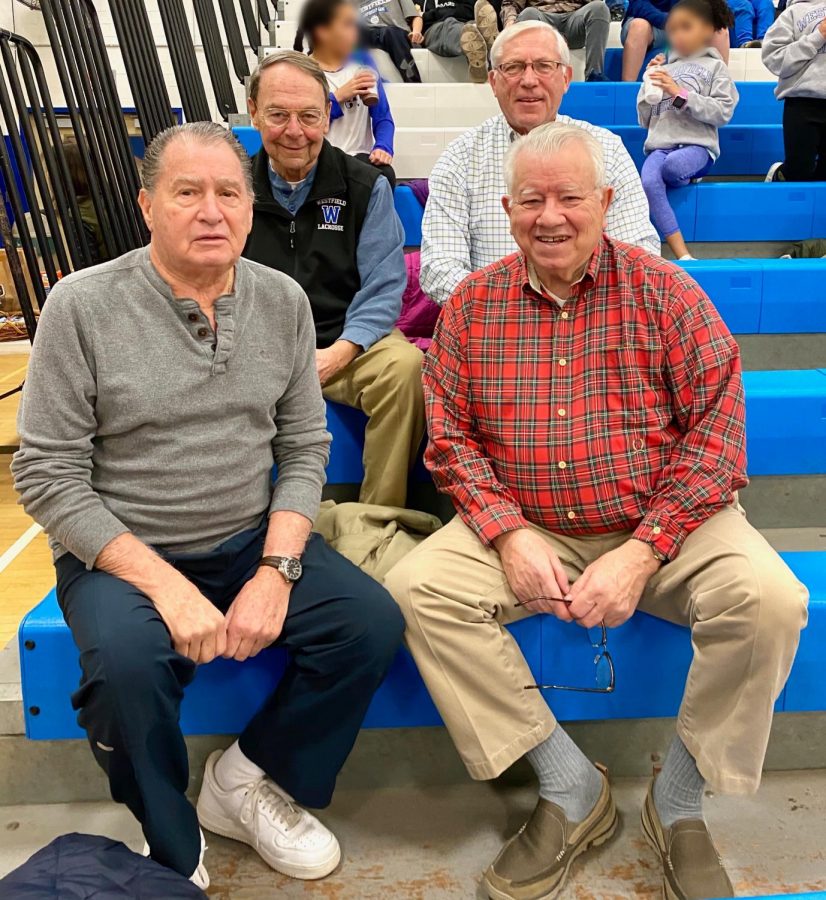 Throughout the past four years, the Dubfield Athletics Instagram page has been informing the WHS student body about upcoming sports games in order to increase the size of the student section at all sporting events. Many players focus on the aspect that their friends are attending their games and watching them perform at their best, but sitting at the bottom of the student section are a group of 5 men who have been coming to WHS games for the past 40 years.
Tom Allebaugh, Ed Capano, Jerry Robinson, Ed Rolleri and Judge William Wertheimer are the core members of the group and despite the fact they grew up in different places, they have ended up at Westfield sporting events. Through playing childhood sports together, coaching at the youth league or seeing each other at activities in town, the group was formed.
In the words of Robinson, they are a group of "comrades" who come to the games and support WHS athletes whether the athletes are performing at the freshman, JV or varsity level. Since Robinson was an athlete himself, he relates to the spirit and hard work the athletes bring to WHS.
As of 2019, WHS has received numerous sectional and Union County titles. To say the least, WHS athletes continue to push themselves to receive the recognition they want in their sport. As WHS athletes persevere through many obstacles and achievements, these men stick by their side and continue to watch them play throughout each season.
People who watch sports all share a common interest. In Allenbaugh's case, it is watching the competitiveness and teamwork that is seen in the games. "I got really interested in it because I had a niece and nephew that played sports and I coached PAL football for several years, so I watched those kids play all the way through," he said. "It's entertainment. We don't have jobs, we don't work."
Watching high school sports is entertaining due to the level of excitement and school spirit that is seen at the games. But it's not only the entertainment that brings the group together, it's also the fact they are able to watch athletes mature over time and become masters in their sports.
Each of these men played sports throughout their time in high school, and being able to watch the new generation of athletes play is what they enjoy the most. "The people of Westfield have long encouraged and coveted effort and excellence from our youngsters to our senior citizens in whatever they choose to do," said Wertheimer. "It is special to live here to witness it when and wherever it happens."
When you are looking for support for your games, just know you will always have a fan group cheering you on. To the "comrades" who always come to WHS sporting events, thank you for cheering on the Blue Devils!