Girls golf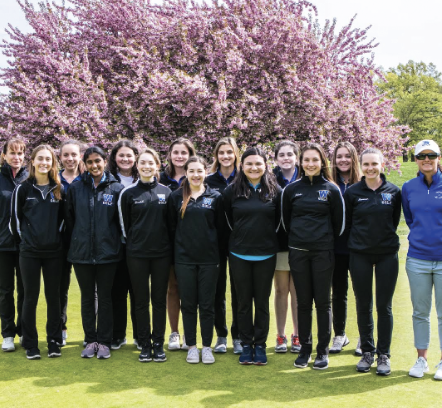 With spring sports beginning, the WHS girls golf team is looking forward to another season full of achievements.
The Blue Devils have been undefeated the past two seasons in their division, and only suffered one loss in the past three seasons of division play and have been North Jersey Conference Champions three years in a row, making them one of the top teams in the state. With the addition of the new Union County Girls Golf Tournament, the team hopes to carry their success into the tournament as well.
Senior Co-Captain Remi Shendell attributes their success to the team's abundance of talent. "When I came in as a freshman we had a really solid team… [and] a lot of success that we really hadn't had before. We always wanted to hit under 200 and had never really done that before, and now we are hitting 170 consistently which is 30 strokes less than it was 5 years ago," said Shendell. "There has been a lot of talent, we've had a lot of people who are shooting consistently lower than we had before and we always have at least one person going to the NJSIAA North Sectional Individual tournament each year."
Part of this talent is fostered by the town of Westfield itself. Athletic Director Sandra Mamary said, "Our community has the ability to join golf courses and play golf at a young age; our town plays golf and that gets passed down to the kids."
As for any sport, talent can only get a team so far. WHS junior Amanda White says the team is made up of "a really great group of girls that work super hard and always want to improve their skills." This determination has paid off in a big way with a fifth-place finish at the state sectional match last year.
WHS junior Rachel Simpson said that the golf team's success is due in part to the exceptional team dynamic. "We all get to spend our afternoons playing rounds of golf and bonding on each hole of the course," said Simpson. "It's a really unique experience that I don't think many other sports get."
Although the success of yesterday cannot account for the success of tomorrow, the team is focusing on "keeping their scores low and consistent," said Shendell. They hope to continue the two-season winning streak into the 2020 season and far beyond.