Royal eats near WHS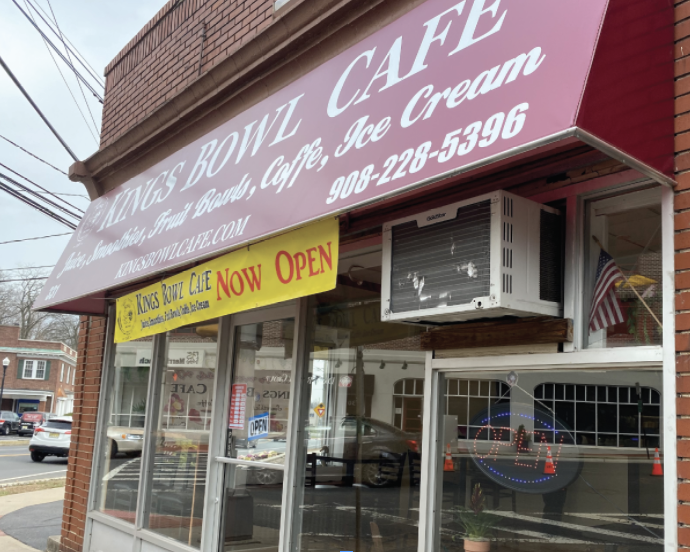 Walking in greeted by the smell of fresh fruit and "Do it Again" by Steely Dan got me in the perfect mood for the amazing food at Kings Bowl Cafe. Opened by Byron Chinchilla in February at 331 W. Broad St. and right by WHS, Kings Bowl cafe is perfect for Open Lunch or a quick bite after school. The store is vibrant and fun, with an expansive and appealing menu.
I ordered a Greek salad and a strawberry smoothie, both of which were mouthwatering. All of their smoothies are made with a coconut milk base and, while I am not usually a coconut milk lover, the smoothie was very light because of it. The smoothie was called "Strawberry Lover" yet the strawberry didn't dominate the fruity drink. I could still taste the pineapple, mango and agave. I enjoyed my salad as well; it still tasted fresh even out of season. The food at Kings Bowl Cafe is exquisite, and I recommend a visit.
One of the best parts was the array of food they had to offer. While I only got a smoothie and a salad, they have açai bowls, ice cream, fresh juices and more. I stood at the counter for quite some time trying to decide; however, the staff was patient and didn't mind my indecision. The store felt very Mediterranian, with a bright orange accent wall facing the doors that felt warm and inviting.
I definitely recommend a trip to Kings Bowl Cafe because of the coziness and convenience of the store and its food. I will be going back again to try the rest of their menu.