Hungry Hungry Hank Volume 6: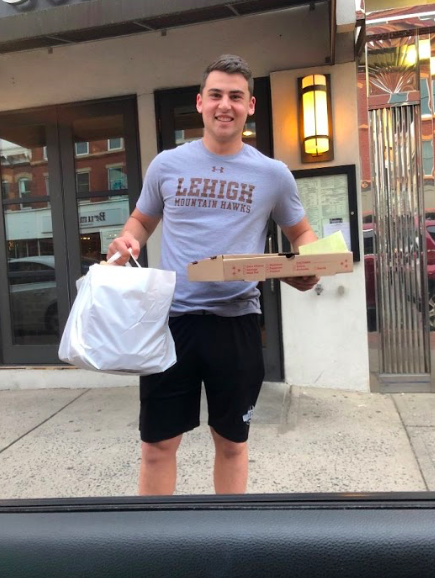 Unfortunately, the coronavirus has significantly impacted my ability to consume food at the highest level, but I promise you it has not stopped me from trying. In times like these it is important to support local businesses, as they are not receiving the same foot traffic they normally did pre-quarantine.  Over the past four weeks of quarantine, I have sampled many restaurants in the Westfield area. Every place I've ordered from has provided me with quality cuisine, but based on my experiences, I've curated the perfect 5 meal plan for you to try since we are all home 24/7.
For breakfast, my choice is without a doubt Vicki's Diner.  The most versatile restaurant in town will dazzle you for any meal of the day.  But, their breakfast is seriously something else. My go-to order is an omelette with bacon and cheese, but any one of their combinations will satisfy your taste buds.  Served with homefries and toast, I promise you can't go wrong. If you're looking to shake it up a bit, I thoroughly enjoy their pancakes, Belgian waffle, or any breakfast sandwich. Also, they serve, hands down, my favorite hot chocolate in town. With an extremely quick turnaround after you call in your order, their curbside pickup is delightful. There is no question that you want Vicki's to start your morning. Call 908-233-6887 to place your order.
After breakfast, I usually work out for a bit and then one of my favorite post work-out snacks comes from Smoothie King, which is located on the border of Westfield and Clark off of Central Ave. With a plethora of options on their menu they definitely have a smoothie that tailors to you. My personal favorite is the Angel Food, which is a classic strawberry banana option. Smoothie King is drive through only because of the virus so it is definitely a safe option in which you can stay in your car. The smoothies are pricey, but worth it.
Then my day takes me to my first lunch in which I will pick up from a staple in the Westfield food world, Hershey's Deli. Your classic NJ/NY deli, Hershey's checks all the boxes. My sub of choice is the King Sam which consists of corned beef, turkey, roast beef, Virginia ham, Swiss cheese, and Russian dressing. They also have a wide array of chips to have with your sandwich. Other things that are well done are their wings, breakfast sandwiches, and hot subs.  Hershey's is a really easy choice that will satisfy your hunger. Call 908-233-0430 to place your order.
My next bite is technically my second lunch but can also be considered my first dinner. My mid-afternoon meal is around 4 p.m. and comes from Cosimo's. The staff at Cosimo's is extremely nice and are efficient with their curbside pickup or home delivery. My order consists of the BBQ chipotle crispy chicken wrap, which balances sweet and spice elegantly. I usually also get their thin, yet crispy french fries on the side. Other viable options from Cosimo's are their salads and pepperoni pizza. You can order online at cosimosrestaurant.com or call 908-654-8787.
My final meal of the day, or dinner, is from Akai. This traditional Japanese resturant knocks it out of the park with their sushi. If you're looking to shake it up, I enjoy their teriyaki steak, and fried pork potstickers. Akai is very easy for pickup or home delivery making the last bite of my day delicious and user friendly. To order, call 908-264-8860.
Make sure to stay safe, stay connected, and tip well because everyone could use the support during times like these. 
Calories for the day: 7,648 Calories
Total Calorie Counter: 18,650 Calories