The resurgence of video games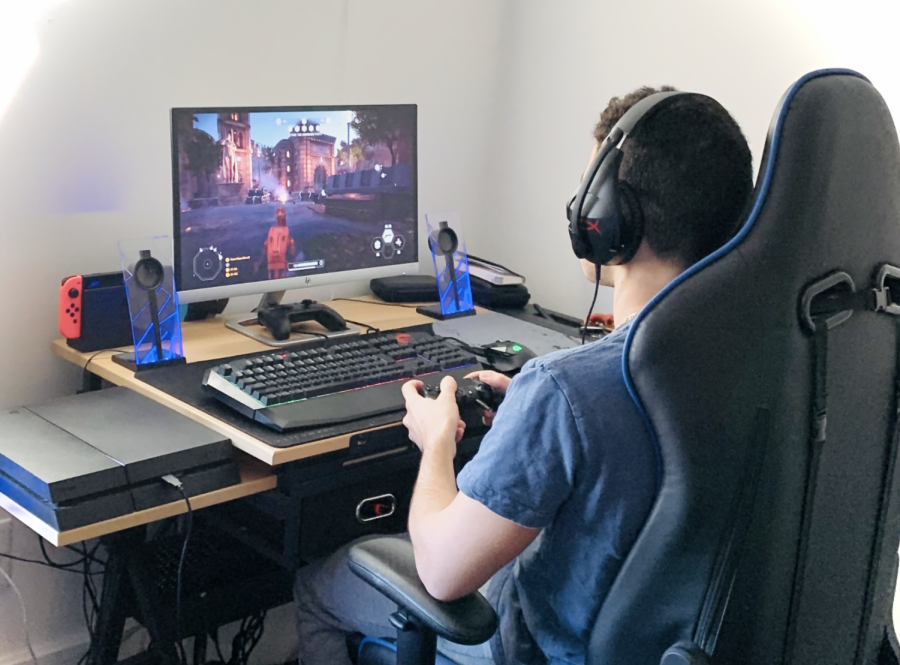 With the entire country on lockdown and Americans urged to stay inside, many teens have turned to an old friend to pass the time while they are in quarantine: video games.
According to GamesIndustry.biz, in the week of March 16 – March 22 (around the beginning of most quarantines), 4.3 million games were sold and downloaded, an increase of almost 63 percent from the week prior. The same data analysis also shows that console sales increased by 155 percent and digital downloading in most countries rose by over 100 percent. 
WHS senior Daniel Singh is one teenager who has been playing more video games than usual during quarantine. "During the quarantine I have found myself playing much more video games because I would like to do my part and adhere to the social distancing rules," said Singh. "I understand I cannot go out and hang out with my friends, but I can talk to all my friends online while being in the safety of my own house." 
Senior Johnny Bracco used the quarantine as an opportunity to start an online franchise in Madden 20, where he is the commissioner of a fantasy football league. In this league, teams are run by other high school students who compete against each other daily. "Being commissioner is a good way for me to spend my time during quarantine because even if nothing is going on outside, our league is very active and we have new things to do each day," said Bracco. "I have different responsibilities as commissioner, like discussing when to advance, when to play games and settling league disputes." With no sports going on to watch, playing these games and participating in the league attempts to fill the void. 
Video games provide a convenient way for people to interact with each other without leaving their own homes. Xbox and PS4 "parties" allow players to chat with their friends while playing the same games as them. "Sometimes I go to the party just to talk to my friends; I won't even be playing the same game as them," said senior Jason Currie. 
Additionally, this resurgence of video games is causing widespread change in those who had originally believed them to be a detriment to society. Many game studios on March 28 began kicking off a new initiative entitled #PlayApartTogether to encourage people to entertain themselves with video games and practice social distancing. The initiative, supported by the World Health Organization (WHO), is especially noteworthy because WHO had previously designated video game addiction as an official mental health disorder. 
Ray Chambers, the WHO ambassador for Global Strategy, tweeted on the same day: "We're at a crucial moment in defining outcomes of this pandemic. Game industry companies have a global audience – we encourage all to #PlayApartTogether. More physical distancing + other measures will help to flatten the curve + save lives."
For those who have been longtime fans of video games, this means a lot more than it may seem. Students who seek to incorporate gaming into daily life as a common social pastime are often stigmatized by their peers, parents, and teachers. Now, due to the pandemic, these opinions may start to change, as gaming is being discovered by more people and is now being seen in the way that many gamers had already seen it: an important and enjoyable way to spend time with friends.