From the three point line to online: professional athletes remain competitive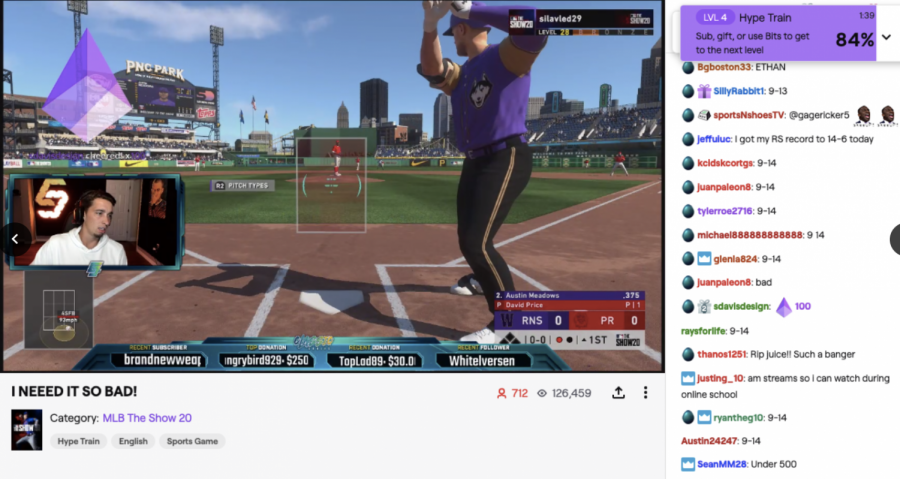 With the COVID-19 pandemic canceling nearly every sport across the nation, professional athletes have found themselves with more time than usual on their hands. This has led many athletes to resort to gaming to pass the time and fulfill their competitive drive. 
Athletes all around the country are also using gaming as a way to connect with fans and other athletes alike. Dallas Mavericks star Luka Doncic and New York Yankees ace Tommy Kahnle have recently joined Twitch, a video game streaming platform, as a way to connect with fans and entertain themselves. They are not alone either, as there are currently hundreds of professional athletes streaming on Twitch. 
Due to the lack of live sports being aired, sports video game companies, such as 2K Sports and EA Sports, are running simulation games with match ups picking up from where the regular schedule was suspended. 2K Sports has run simulations of basketball games on NBA 2K20 and have already finished the regular season.
Perhaps most intriguing, however, are the tournaments happening between the professional athletes themselves. The first was a 16-player NBA 2K20 tournament that was broadcast on ESPN, with the first round of games beginning on April 3. The tournament took NBA players that were self-proclaimed gamers and created brackets to determine who was the best. The tournament concluded on April 11, as Phoenix Suns guard Devin Booker took the title over his teammate Deandre Ayton in a thrilling final.
MLB followed suit with a slightly more complex gaming competition of their own where they played MLB The Show 20. Each of the 30 MLB teams selected one representative from their respective team as their player. The 30 athlete-gamers will compete in a 28-game season followed by the playoffs and ultimately the crowning of a World Series Champion. As of His Eye's deadline, the regular season is still underway, and the games can be viewed on Twitch, YouTube.TV and MLB.com.
With the high volume of games being played in the MLB players tournament, not every game can be streamed at once, so one showcase game is selected that features both players on a face cam and a commentator to go along with the gameplay. If one simply wants to watch his or her favorite team's player compete, each player has a designated Twitch channel. 
The live streams are a great way to connect with professional athletes and get to know more of their personalities. Watching the athletes play video games using their own team offers a unique perspective. The MLB and NBA players make comments about the team and give interesting information about their teammate's tendencies and playing styles, while keeping a light atmosphere. They often joke about how unrealistic it is when a player does something in the video game that they have never seen them do in person, but they also show their competitiveness as they rage when they make errors or are losing the game. 
Professional athletes also have fun with the world of gaming, as they get to talk to players from other teams that they have competed against in real life but have never really gotten to know personally.
While it may take a while for sports fans to be able to watch their favorite players on the field or court again, watching athletes compete against each other on a different, online platform can be a fun way to still get the sports fix that they have been missing out on.