Extraction: Netflix brings the action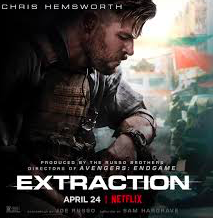 In the past few decades, the film industry has seen a massive insurgence in the production of action movies, with many of them becoming cinematic masterpieces. These films often share common elements, such as hand-to-hand fighting, intense acting and gripping character moments. So, after all these years, how is it possible to create a unique, high-octane, combat-heavy, action thriller movie that has enough to set it apart from the others? Well, I am happy to say that this task has been accomplished by director Sam Hargrave, and the famous Joe and Anthony Russo (directors of Captain America: Civil War and  Avengers: Endgame) in their latest Netflix Original movie: Extraction.
Starring Chris Hemsworth, Extraction is an epic film about loss, betrayal, and most prominently, insane and brutal battles. The story revolves around Tyler Rake (Chris Hemsworth), a black-market mercenary and former Australian Special Air Service Regiment soldier who is suddenly recruited by a fellow mercenary for a new job. He must now rescue Ovi Mahajan Jr. (Rudhraksh Jaiswal), the son of India's incarcerated largest drug lord, who is being held for ransom in Bangladesh by Amir Asif (Priyanshu Painyuli), another ruthless and powerful drug lord.
On paper, the idea seems incredibly basic, which it is. But, there is an element of this movie that sets it apart from many others like it: the developing bond between Tyler and Ovi.
Throughout the film, as Tyler attempts to escort Ovi out of the city and out of danger, he also inadvertently teaches him important survival skills. Over time, Ovi begins to rely on Tyler and trust in him. He slowly begins to evolve in Tyler's mind from an object with a price tag into somewhat of a son. This bond between the two characters adds necessary emotion to the story, and balances out well with the rest of the movie, which is filled with amazing action sequences.
The cinematography and choreography in this film are stellar and are easily the highlights of this film. The camerawork, specifically the use of panning, motion, and focusing is extraordinary. The hand-to-hand combat is incredibly realistic and filled with surprises. Each movement Tyler makes is swift and precise, and every fight is quick and to the point, leaving no time to be bored by dragged-out unnecessary moments.
Overall, Extraction sets a new bar for all future action movies to come, and although it has been met with somewhat mixed reviews, I thoroughly enjoyed it and am excited to see what Sam Hargrave and the Russo Brothers have in store for their audiences in the recently announced, upcoming sequel.