Devin Caherly: A rising TikTok Star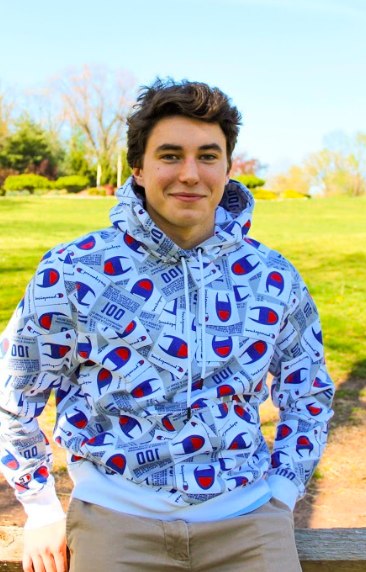 "I wanted to say thank you for making my days better just by watching your videos." "You give off the most genuine vibes." "I love your emotion in your videos." "Glad I discovered your page; you're one of my fav TikTokers now; so wholesome." 
These are just some of the hundreds of glowing comments that fans have left on WHS 2019 graduate Devin Caherly's TikTok videos. Since creating his TikTok account last July, Caherly has amassed over 1 million TikTok followers and 38 million likes on all his videos. 
Caherly started his TikTok as a way to help fulfill his dream career of being a full-time social media influencer. According to Caherly, if you want to be a social media influencer, TikTok is the best app to be on since you can quickly gain followers and views. 
"You can easily blow up your TikTok and transfer your audience to other platforms. It's just the easiest to get your name out there for starting careers," said Caherly. This plan has successfully worked for Caherly as he currently has 88,000 followers on his Instagram, many of whom came from his TikTok account. 
Originally, Caherly's family did not understand his TikTok goals when he launched his account, primarily since they didn't know how the app worked. However, they have now come to accept it after learning more about TikTok. Yet, not everyone has been so supportive. Despite some of the hate he has received from his peers at school, Caherly values his supporters and his ability to inspire others more than the criticism.
While Caherly is grateful for his million followers, his ambitions for his TikTok account have not been fulfilled yet. "I want 10 million; I want 20 million," said Caherly. "My goal was to hit 100K, [and] once I hit 100K it's like, 'Ok, what's the next goal?' You just can't be satisfied in life or else you'll never improve, so I just always want more and more and more." 
As a social media influencer, Caherly wants to use his platform to motivate others. "My main goal is just to inspire other people to chase their dreams and focus on their goals and prove that if you have a goal…you just put in the work and it's just very cool how I can inspire thousands of people on a platform," said Caherly.
Before he started using TikTok, Caherly already started to inspire others through his Instagram account @dc_millionaire which he started in 2018. DC Millionaire was created to encourage entrepreneurs to work towards their business goals. Currently, the account has 292,000 followers. "For Instagram content usually, it's very simple," said Caherly. "I'm in the motivational business niche so I just find motivational quotes and viral posts or pictures, and then I just create it."
While it is easy to create content for DC Millionaire, there is a lot more thought that goes into a viral TikTok video. "TikTok is like a whole process. There are trending sounds and then you hop on the trending sound and then you create your own version of it," said Caherly. 
Most of Caherly's TikTok videos consist of point of views, where he lip syncs to a song while acting in a real-life scenario. For example, one of Caherly's most recent point of view videos has the caption "You're on FaceTime with your best friend and you tell her how you feel." He then acts out what he said in his caption while lip-syncing to the song "Singles You Up" by Jordan Davis. 
Caherly's advice to people who want to be a social media influencer full-time: "You honestly have to love it, or else it will never come true because you're just going to give up. So this was my goal as a little kid to do social media…and if you're really passionate about it you can make it happen or you will make it happen because you won't stop until it comes true. So just be yourself, work at it every day, non-stop and you'll get there."