Should recent NFL injuries be a red flag for WHS Athletes?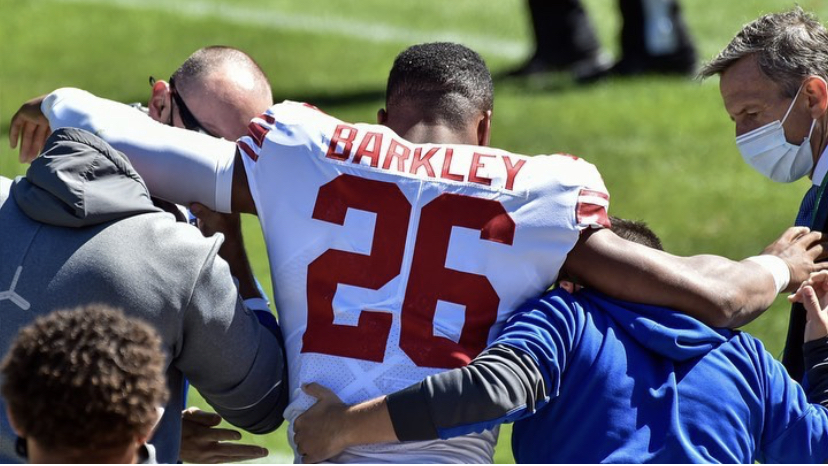 This week in the NFL there have been multiple COVID-19 cases causing the Tennessee Titans and Minnesota Vikings to quarantine. Despite the issues, players were still playing at a high level in the opening weeks. Because of the pandemic, however, teams were unable to have a full-scale preseason. The lack of training before games is the suspected cause of some serious injuries, and it's only the first month of the season. This begs the question when WHS sports start back up again, will there be an increase in injuries?
NFL stars Christian McCaffrey, George Kittle, Nick Bosa, and most notably, Saquon Barkley, are just a few on a long list of players who have suffered major injuries so far this season. Players and coaches have speculated that the cause for these injuries stem from not enough practice before the season began. 
NFL teams usually play four preseason games, but due to coronavirus, teams couldn't play preseason games before the start of the regular season. Football is a physical sport and players need to get used to the game again before playing real games. Players simply haven't been given ample time to adapt to the physicality and intensity that characterizes football. Because there wasn't a preseason, players had to create their own training routines. 
At the high school level, players and coaches have also had to create new routines to get ready to play next week and minimize the chance of injuries. But, high school players, unlike professional athletes, don't have access to athletic trainers during their solo quarantine workouts. This could prove to be dangerous for the high school athletes.   
As worried as some athletes are about the lack of organized practice before games begin, WHS athletic trainer Steve Barandica remains optimistic that injuries will not increase. "I think our coaches are doing a fantastic job of preparing our athletes and doing everything that we can to make sure they are in tip-top shape to compete," said Barandica. 
Both coaches and players have gone to great lengths to ensure they'll be ready to compete next week. Senior soccer player Sean Hazard said that his team downloaded an app called Strava to track their runs. "There were teams of four players and the coach assigned us a time to run. The goal was to get the most combined mileage for that run to beat the other teams," Hazard said. He explained that the exercise brought the team closer together, allowed everyone to compete with one another, and got them in really good shape.
Coaches also have to adjust to the challenging situation. Westfield Cross Country Coach Chris Tafelski said, "The biggest challenge is making sure that guys are training at an appropriate level that will help us prepare for races. For some guys that means making sure they're working hard enough, and for others it means making sure they're not hammering too hard." Tafelski's plan to keep his athletes healthy and competition ready included google meets, training that can be done from home and regular messages on google classroom.
The adaptable mindset of the WHS training staff, coaches and players will bring as safe and competitive of a fall athletic season as possible without injuries like the NFL.