Downtown Westfield is Glowing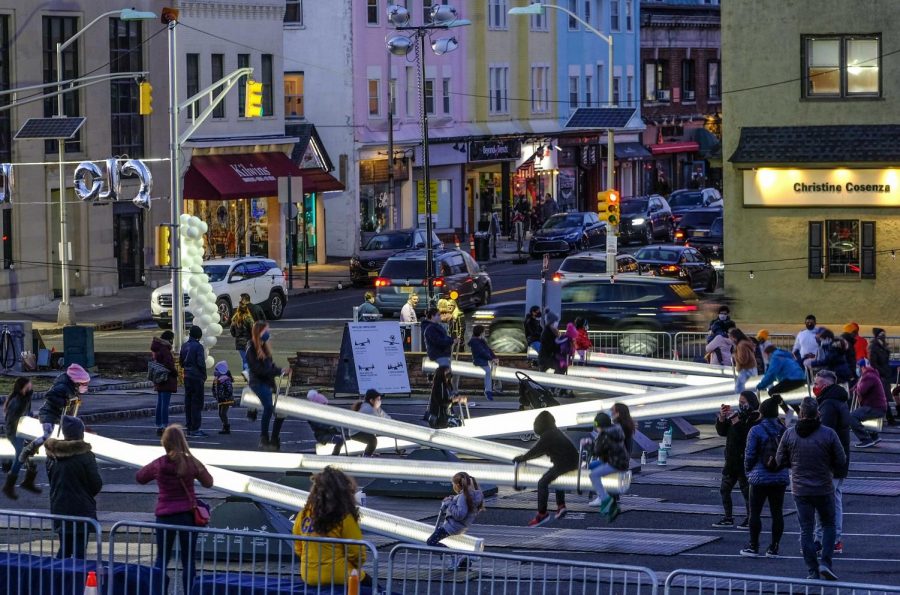 March is typically a gloomy and slow month for Westfield businesses, which is why the Glow Downtown project aims to encourage residents to shop, dine and play downtown. The highlight of this initiative is the Impulse seesaws, giant light-up seesaws that four people can ride at a time, which have attracted adults and children alike. 
The Impulse seesaws at the North Ave. Train Station is part of an international art installation that has previously been in major cities such as New York, Montreal and Singapore. The funding for the seesaws comes from a $75,000 grant from Main Street N.J., an organization that is a part of the N.J. Department of Community Affairs.
Illuminated at night, the seesaws are always bustling and allow Westfield residents to spend time outside in a fun, COVID-19 safe way. WHS sophomore John Veres said, "I had fun and I got to enjoy an activity with my friends while we kept a safe distance of six feet."
Robert Zuckerman, Executive Director of the Downtown Westfield Corporation said, "By bringing an interactive art installation to Westfield we hoped to bring more people downtown and encourage them to spend money to help our businesses which have been hit really hard by COVID-19, and are now coming off of a very cold and snowy winter."
Councilwoman Dawn Mackey said the idea behind Glow Downtown was "to bring light and whimsy to town during what is typically the most difficult months for merchants and restaurants, even in a regular year. Giving people a reason to come to downtown would also lead to economic activity for our businesses while providing joy and supporting the arts." 
The seesaws are transforming Westfield into a local attraction and bringing people from surrounding communities to Westfield, which has greatly helped businesses by introducing new customers. Mackey said, "The testimonials from merchants so far have been exceptional."
 Additionally, many local businesses are offering special promotions during Glow Downtown. Some of the most popular events are self-guided chocolate tours and photo sessions at the seesaws. Zuckerman said, "Events like these support local businesses because they bring much-needed foot traffic to our downtown and that is key, especially for independent mom-and-pop type retailers." 
The seesaws may be a limited-time attraction, but according to Zuckerman, the town is planning more ways to keep the downtown busy during the summer. Quimby Street will open back up for outdoor dining with new tents and lighting. Zuckerman said the main goal is to keep "encouraging people to be outside, to dine outside and come downtown and socialize outside with people."
The seesaws will be in Westfield until March 21 and they are open to the public from 9 a.m. to 9 p.m. Make sure to stop by the seesaws before they are gone and check out the promotions being offered by local businesses in town. For a complete list of the Glo Downtown deals, click here. 
Leave a Comment