PTC educates students during Food Allergy Awareness Week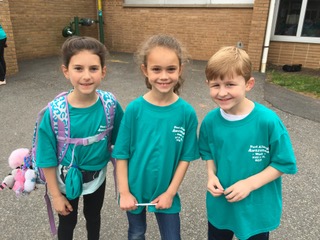 Food Allergy Awareness Week starts on May 9. Westfield elementary and middle schools will be hosting a variety of activities to educate students on how food allergies work and personal actions they can take to ensure their classmates with food allergies remain safe. 
The Parent Teacher Board approved the Food Allergy Awareness Parent Teacher Committee (PTC) in 2016 and selected Dr. Matthew Bolton, principal of EIS, as the district lead. Food Allergy Awareness week was created by the Food Allergy & Anaphylaxis Network in 1998 to inform the public about the potentially-life threatening condition. 
Janine Flannery is a Westfield parent of children with food allergies and is also the Committee Chairperson for the Food Allergy Awareness PTC. She said that this week is "an opportunity to just explain what the needs are for food-allergic students, especially in a school setting." The information provided during these activities could possibly save someone's life and the hope is that students will be motivated to ask their food-allergic friends about what they should do to help in case of an emergency. 
Flannery said, "It's important to mention that many parents volunteer to spread food allergy awareness in our district and help keep our students and community safe. It wouldn't be possible without them."
Washington Elementary school held an art contest to encourage students to participate in this week more actively. All classes were given a presentation by volunteer parents on food allergies, including information about symptoms and common allergens. Students were then given the chance to submit an artistic design conveying what they learned, and over 100 students entered submissions. 
Three winning designs will be chosen and printed on t-shirts, which will then be distributed to students at a courtyard party at the end of Food Allergy Awareness week. The t-shirts will be printed in teal, the official color for food allergy awareness. All elementary schools will also have a school-wide announcement each day that states one fact about food allergies. 
The middle schools will also have daily announcements, but they will instead list a myth about food allergies and then debunk that myth with a corresponding fact. One of the popular myths that will be debunked is that food allergies aren't serious. In reality, they can lead to vomiting, hives,and in extreme cases, death. 
WHS freshman Owen Ing is also organizing a presentation at Wilson Elementary School on how to read food labels to help food-allergic students if they are going to someone else's house and have concerns about what they can eat. He said that in his own experience growing up as a food-allergic person, he was always worried about what was safe for him to eat and he had to ask his friends' parents to read food labels for him.
Ing said, "I'm hoping to create a more general awareness about allergies and how serious the problem is. I want there to be more acceptance for people with allergies."
Leave a Comment