Girls Learn International holds panel on human trafficking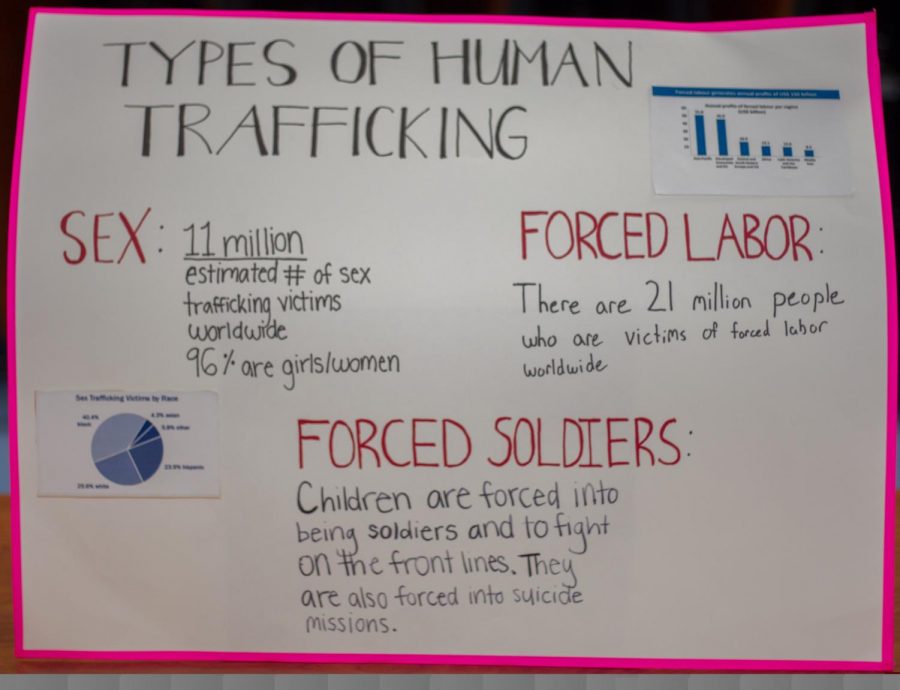 "Look at the clothes you are wearing, the food you are eating. Chances are they were made by people who are being trafficked," said Volunteer Lawyers for Justice attorney Kelsey Lee.
Lee was just one of four speakers at WHS club Girls Learn International's (GLI) panel about human trafficking on Feb. 23 in Caf. B. Other speakers of the night included Ms. Kate Lee, the Administrator of the New Jersey Coalition Against Human trafficking, Dr. Vivian Pender, creator of Healthcare Against Trafficking, and Ms. Rosalyn Scriven, an Equal Justice Works Crime Victims Justice Corps Fellow.
While each panelist covered a different topic based on her field, the one point they all stressed was how human trafficking is happening locally,"In NJ we have a lot of risk factors; we are a portal state," said Kate Lee. Since 2007, New Jersey has had 3,538 reported cases of human trafficking, according to humantraffickinghotline.org.
Another important issue was the lack of protection in the legal system for people who are victims of human trafficking. Often women who are victims of sex trafficking face jail time for prostitution while their pimps, also known as johns, walk free.
"I always assumed that as prostitution cases went through the legal system, there were thorough checks on whether a person was acting on their own or being forced," said WHS freshman Ciara Weber.
Organizations that the panelists are a part of, such as NJ Coalition Against Human Trafficking and Covenant House, are currently combating this legal setback. "Something that everyone here should do tonight is call their legislators," said Kelsey Lee.
Along with the absence of legislative reforms, the panelists also cited a larger problem: societal culture. "We are not getting as far as we should be getting because we resist [addressing the issue]," said Pender.
This resistance was seen in the number of attendees. This year 30 people attended the panel, approximately half of the number of people who came to GLI's previous panels about women in politics and human rights.
Regardless, the panel had a large effect on the people there.
"I think the night was really impactful," said GLI co-president and WHS senior Sarah Laide. "This issue is important because everyone says that if they were living during legal slavery they would have been an abolitionist, but modern-day slavery gets absolutely no recognition and very little is getting done to stop it. The issue here is mostly ignorance so anything to raise awareness helps."
If you are a victim of or have a tip about human trafficking call the national human trafficking hotline at 1-888-373-7888 or text 233733 for assistance.