The Vegan Files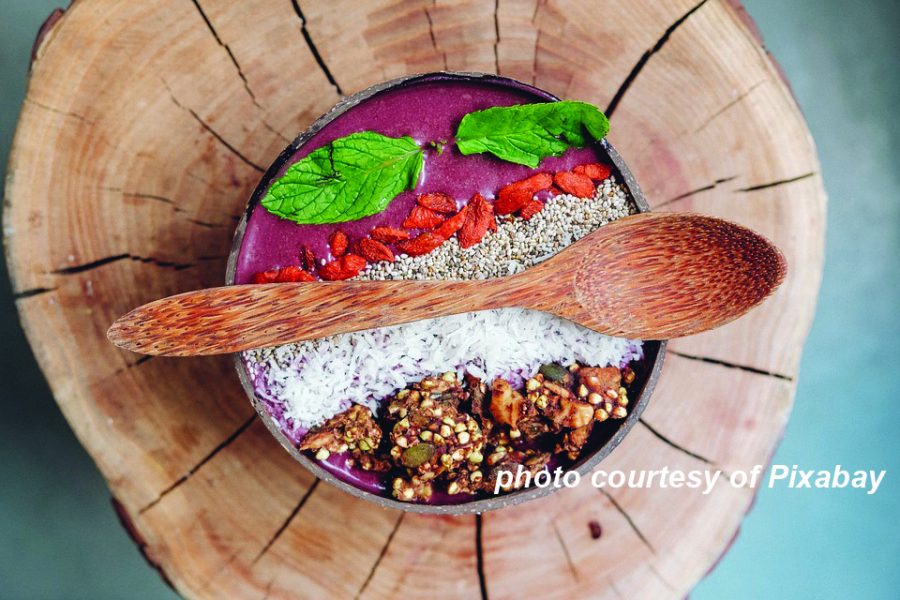 Veganism has been on the rise in the last couple of years and for good reason.  A vegan diet conserves water, helps animals and lowers the risk of getting certain diseases.
After reading about these benefits, I was determined to be a vegan for a week, which meant cutting out all animal products from my diet. Although I try to eat healthy, my diet is nowhere close to vegan, so I was nervous that there would be limited food options and a lack of protein.
I began my vegan diet by food shopping with a Hi's Eye staff member. We piled the cart with fruits, vegetables, pasta and snacks; I was pleasantly surprised to learn that Oreos are vegan (you're welcome).
After the shopping trip, I began my vegan diet the only way I knew how: an acai bowl from Juice House. Swapping honey for agave didn't change the taste at all and made me optimistic about the rest of the week.
I started the first couple of days of my vegan diet strong. I had delicious dinners like gnocchi and tomato sauce with a spinach salad, and I discovered that the Modern Greek Salad without feta cheese from Panera is vegan. My lunches were rather unchanged: I ate leftover pasta, fruit, and a combination of snacks like veggie sticks and Kind bars.
For dinner on Wednesday, I decided to try something very out of my comfort zone— a plant protein burger. My first reaction was that the burger looked like frozen dog food in the shape of a hockey puck, but after topping it with avocado and tomato, I ended up being pleasantly surprised by how good it was.
There were two negatives of my experience. The first being the Califia Farms almond and coconut milk coffee creamer. Despite the excessive amounts of sugar I poured in, it still left a weird aftertaste in my mouth.
My second negative experience was Ben and Jerry's non-dairy ice cream. By the first spoonful, I was disappointed by the almond milk aftertaste and icy consistency.
Besides those slight bumps in the road, the first couple days of my vegan diet were not as difficult as expected. However, on day five the wheels came off. I started my day strong with oatmeal topped with sliced banana and brown sugar, but my vegan diet went downhill while watching the Big East Tournament at Madison Square Garden.
I simply could not last through two basketball games on soft pretzels and potato chips, so I ended up cheating on my vegan diet with  some pigs in a blanket and a chocolate chip cookie. However, I was determined to bounce back with a vegan sofritas (tofu) burrito bowl from Chipotle for dinner. At this point I started to lose patience with my vegan diet because this bowl gave me the worst stomachache.
Friday, I went through most of my day vegan, but when my friends went out for pizza I couldn't resist indulging in my favorite food. Admitting my defeat, I decided that it was time to end my vegan diet.
Although there were some negatives from this week (primarily the aftertaste of almond milk), I discovered some foods that I really liked and will continue to eat, like oatmeal and pistachios. Seriously, pistachios are amazing; go put them on your shopping list.
The most difficult part of the week was trying to eat out. Although Panera and Chipotle offered vegan alternatives, the options  were limited and required extra customization. At Madison Square Garden, it was hard to verify that foods like french fries and pretzels were completely vegan friendly.
It is important to note that I attempted a vegan diet briefly, and in reality, this is truly a lifestyle change that requires more time to see results. It would also be beneficial to contact a dietician before becoming vegan to ensure you are getting the necessary nutrients.