Where to find the best cheesesteak in Philly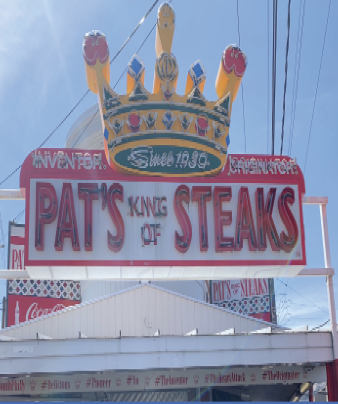 One of the most important questions upon visiting Philadelphia is: Where can you find the best cheesesteak? Knowing that our class trip would be to Philly, we felt we wouldn't be doing our due diligence as reporters if we didn't let our subscribers know the answer to this vital question.  After talking with locals and doing research online, we felt confident that we had narrowed down the top contenders. Faced with the daunting task of tackling restaurants all across the city without public transportation, we put on our best sneakers and hit the streets of Philly hungry for answers.
Spataro's Cheesesteaks (7.5/10):
Starting our day at Reading Terminal Market, we had our first cheesesteak at a stall called Spataro's. We ordered a cheesesteak with American cheese and onions, or an "American with" as locals would call it.  The cheese on this sandwich was the best we had all day as it was melted to perfection. As the cheese disappeared into the ground meat, the onions were barely noticeable. While this wasn't necessarily a negative, what was disappointing was that there wasn't enough meat on the cheesesteak, so the bread overpowered the sandwich.  Overall, we agreed that it was a good start to our day but that we weren't blown away.
Geno's Steaks (9/10):
There exists a fierce cheesesteak rivalry between two of the restaurants we visited: Geno's and Pat's. Geno's Steaks are so popular that next to the restaurant, there is a Geno's Steaks gift shop with clothing and memorabilia, and it's clear why. The cheesesteak had American cheese, caramelized onions, and a lot of steak. The bread was definitely the best as it was more pressed and compact, making the sandwich less dry than the others. The caramelized onions and cheese added a tasty flavor to the steak, but the steak itself was a little chewy and dry. But, when it comes to the rivalry, Geno's is the clear winner. The retro atmosphere definitely added to the overall appeal of this restaurant.
Pat's King of Steaks (8.5/10):
Pat's King of Steaks is credited for inventing the cheesesteak as we know it, and after one bite, it was clear they have also perfected it. Their cheesesteak is generously loaded with succulent strips of beef and sprinkled with diced onions, which are caramelized to perfection. Straying from traditional American cheese, we opted for the provolone cheese this time. The juicy meat bits mixed with the crunch of the onions and a sharp hint of cheese is not just a sandwich, but a euphoric experience. The only drawback to this fine ensemble of flavor was its vessel: the bread, disappointingly, was tough, making it a bit difficult to chew.
Jim's Steaks (7/10):
The final stop on our cheesesteak tour was Jim's Steaks. With our feet growing increasingly sore and our appetites rapidly diminishing, we were looking for a grand finale that would knock the previous three cheesesteaks out of the park. Yet, much to our dismay, Jim's lacked that special something we had craved. This cheesesteak's bread was packed with heavily shredded meat, a skimpy layer of onions and topped with our choice of Cheese Whiz. The meat pieces were too small and lacked flavor, the onions were scarce and the bread was boring and bland. We did, however, enjoy our choice of Cheese Whiz instead of American cheese. Overall, although Jim's wasn't bad, it simply wasn't very special.