#Whatsmyname
Death of University of South Carolina student sparks Uber safety awareness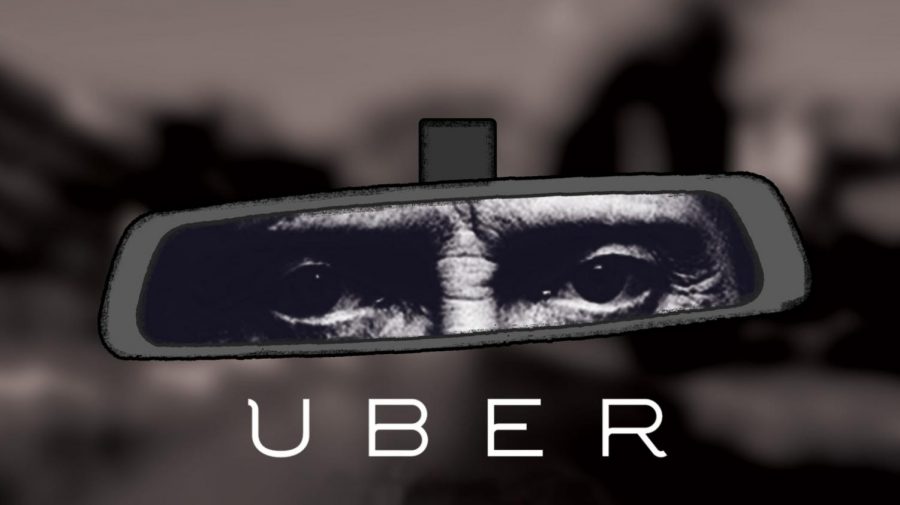 It's one o'clock in the morning, and a WHS student waits for her Uber. Exhausted and wanting to go home, she is alone on the sidewalk. She assumes the first car to pull up is her Uber, so she enters without hesitation.
While what happens next is open to interpretation, this scene sounds eerily similar to the circumstances surrounding the death of University of South Carolina senior Samantha Josephson, a New Jersey native.
According to The New York Times, streetside security footage on March 29 shows Josephson getting into a black Chevrolet. Later that day, it was discovered that Josephson was murdered by a man posing to be her Uber driver.
Approximately 15 million Ubers are hailed each day, according to businessofapps.com, so while what happened to Josephson is rare, it's vital for rideshare users to be aware of fraudulent drivers and know what precautions to take before entering the car.
WHS junior Alexis Hammer, who wrote her JRP on Uber and the gig economy, recognizes that Josephson's death wasn't "necessarily Uber's fault, being that it wasn't actually an Uber driver in that car."
However, Uber still felt it necessary to reiterate their rideshare safety steps after Josephson's death. In an Uber Newsroom article, the company formally responded with a new Campus Safety Initiative to increase user awareness of its original "Check Your Ride" steps.
At USC, Josephson's death has been a topic of conversation as students grieve and evaluate their Uber habits. Josephson's classmate, Sydney Ford, shared on change.org: "I was standing in the gym and overheard two girls saying, 'That could've been me. I don't know when I last truly paid attention to my Uber.'"
Whether they're going to appointments, to practice, or home after a party, WHS students have many different experiences riding with Uber. While most students have had generally positive rides, others have had uncomfortable experiences that made them feel unsafe.
WHS juniors Maddie Neal and Amanda Wagner recalled the time when their Uber driver was "driving on the wrong side of the road," which made them both feel very unsafe.
An anonymous junior girl experienced a feeling of discomfort and uncertainty while in an Uber alone: "An old man was driving me and kept on saying, 'You are so beautiful, and you are so lucky to be so beautiful.' It was very creepy and I just wanted to leave the car, but I needed to get to a job interview, so I had to stay in."
According to cnn.com, approximately 103 Uber drivers were accused of sexual assault or physical abuse of riders from 2014 to 2018. With this in mind, it's common for females to feel unsafe while in a car alone with a male rideshare driver.
History Teacher Antony Farag recognizes that "[teenagers in general] are a population that can be manipulated easily," making them more vulnerable to pressure, abuse, and coercion.
Just as no Uber experience is identical, WHS students also have different safety precautions they take upon entering the car. A few days after the murder of Josephson, Uber published a YouTube video reminding users about their three suggested "Check Your Ride" steps. These steps include "matching the license plate number, matching the car make and model, and checking the driver's photo."
Some WHS students perform all of these steps, while some perform a mix. However, there are students who have yet to take precautions upon entering their Ubers.
Junior Sarah Melone has almost gotten into several cars thinking they were her Ubers. Now, she quickly checks the car's model before entering.
In order to feel more secure as a single female rider, an anonymous WHS senior usually pretends like she is talking to her mom on the phone in the backseat: "I'll say, 'I'm on my way, I'm almost there, don't worry.'"
While one must remember to check the license plate, driver picture, and car type, Josephson's parents and classmates informally established a new step in her honor: asking the rideshare driver "What's my name?" before getting in. This step helps ensure that you are not getting into a fraudulent rideshare car, as a real Uber driver would know your name from being matched up with your account on the app.
Through social media, the #Whatsmyname campaign exploded. After hearing about Josephson on the news, Health Teacher Susan Kolesar appreciates the campaign and strongly advises students to follow this protocol upon entering a rideshare. However, she suggests that "if a student is impaired, [they should] call a trusted friend or family member instead of a service [because students] are most vulnerable when impaired."
While asking "What's my name?" shows a step in rideshare user awareness, many argue that Uber can be doing more to enhance rideshare safety.
"Rideshare cars should have a little light-up sign on top, just like pizza delivery drivers," WHS junior Kunle Badmus said.
An anonymous WHS senior thinks consumer safety lies in driver background checks. He said, "As long as it's not super easy to become a driver and Uber has an extensive background check process, then that's good."
No matter how rideshare companies go about developing further safety initiatives, users must remember Samantha Josephson. Remember her name, then ask "What's my name?"