Courtyard garden blooms again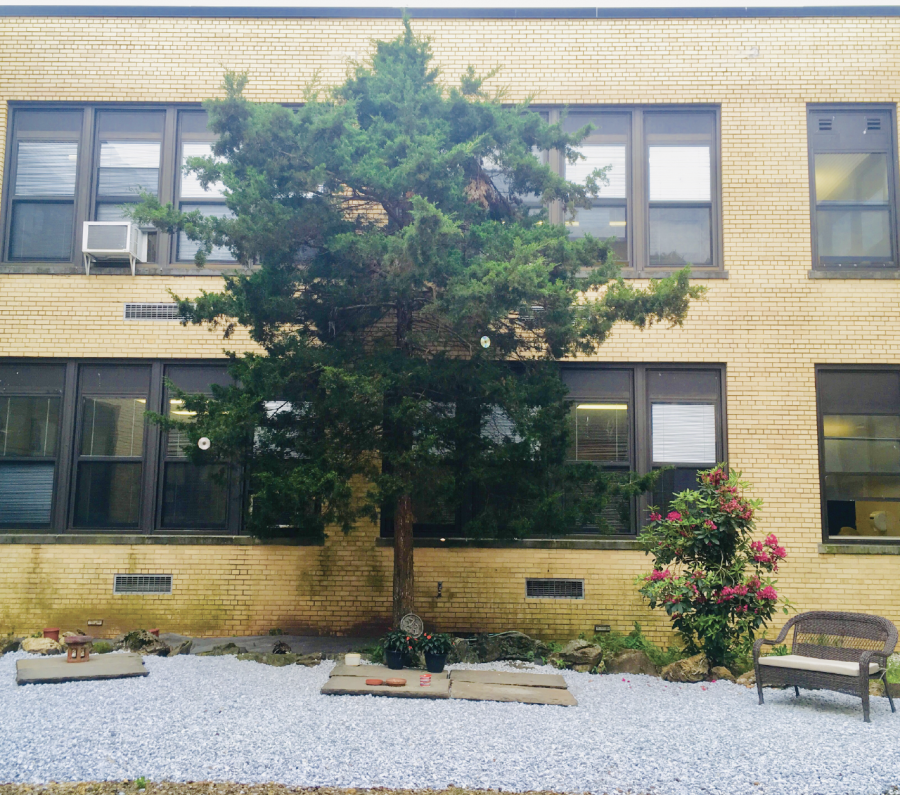 The courtyard in between the front hallway and middle hallway has always been a mystery to most students. Many have wondered over the years why the courtyard seems so overgrown and forgotten. As it turns out, the courtyard has a fascinating story and one senior is laboriously working to write the space's next chapter.
The student taking on the challenge is WHS senior Matt Loftus. During Loftus' junior year at WHS, he took Environmental Science with Judith McLoughlin. McLoughlin would regularly take her class outside to clean the courtyard. Initially, Loftus was shocked to see how untamed the garden was, but would later be motivated by McLoughlin's continuous efforts to renovate the courtyard.
Loftus said that none of this would have happened if it wasn't for the help from McLoughlin. "She advised me on how to approach my senior project and her expert knowledge in environmental science, coupled with her gardening skills, were monumental in creating everything," Loftus said. "It was her passion for the garden that really inspired me in wanting to build something meaningful."
However, repairing the garden was turning out to be a much greater task than he anticipated. "It looked like a forest because there was moss growing to the roof of the building, weeds that reached up to my chest and huge rocks scattered everywhere," he said.
McLoughlin advised Loftus to only tackle part of the courtyard's renovations. He spent close to $1,000, most of it his own, on supplies and materials to help him revamp the damaged space. These funds went towards the main initiative of the garden: creating a memorial site for WHS students and staff who have passed away.
With the courtyard plans originally created by an Eagle Scout, Loftus looked to build on the original design and "restore the garden back to its former brilliance and honor." Loftus's addition to the original design included creating stones to "commemorate all the students, faculty and alumni who've passed away in recent years, especially Dr. Nelson," and he hopes that one day the project can have sufficient funds to create a stone garden across the entire courtyard.
Loftus' English teacher Anthony D'Errico praised him and his work in a recent interview. "He has gone above and beyond in his commitment to his project, which is truly commendable. He experienced a lot of unforeseen roadblocks, but he has managed to persevere and make adjustments to ensure his success on this final project," D'Errico said.
McLoughlin and Loftus encourage members of the WHS community to become involved in any way they can to raise the money needed. The money would help them convert the courtyard into a memorial stone garden, which would allow their visions for the to finally be achieved.