Go ahead, be political: a look into social media activism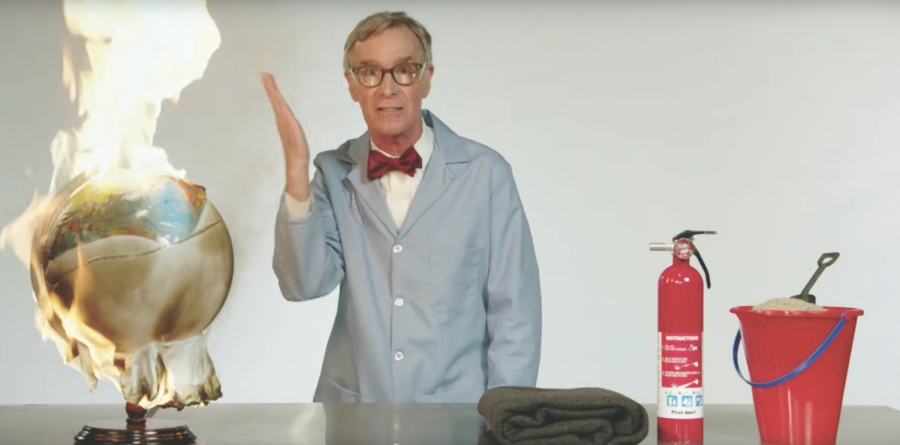 You may remember Bill Nye, otherwise known as "Bill Nye the Science Guy," teaching you tough scientific topics through his quirky videos. But, as current environmental issues like climate change become more problematic, Nye's child-friendly personality has taken a twist.
On Last Week Tonight with John Oliver on May 12, Nye made a bold and timely cameo; while setting a globe on fire, he said, "The planet's on f***ing fire," and called for action against climate change. You might've seen this viral clip shared around Instagram, or maybe you even reposted it yourself.
The more posts there are about current political and environmental issues, the more aware people become. In a Pew Research study from 2018, 32 percent of adults said that they have encouraged others on social media to take action on a political issue. As teenagers and future voters, we must raise awareness and use social media as a medium, not a weapon.
Some view political social media posts as annoying or attention-seeking; in fact, 46 percent of people in a comparitech.com survey became irritated when seeing politics on their feeds.
However, it's acceptable and encouraged to be political on social media as long as you're sharing correct information and evaluating all sides of an argument. Through viewing posts, people are made aware of the issues in our society and learn the importance of taking action.
After the Parkland shooting in February of last year, a group of Stoneman Douglas High School students organized the March for Our Lives protest in hope of altering gun laws. They shared Tweets, Instagram posts and Snaps to demand a change.
Call them too young, call them inexperienced, but these teenagers mobilized millions nationwide using social media as their tool.
More than a year later, teenagers continue to spread awareness through social media, discussing controversial issues, including the recent abortion ban and climate change. As new developments and setbacks occur, social media can alert others about what's happening in our fast-paced world.
Especially through Instagram stories, Westfield teens continue to share their political beliefs and bring recognition to issues they're passionate about. Just this past Tuesday, WHS junior Sarah Melone shared a call for action by posting a fact on Instagram about the recent abortion ban. "Now is the time to do something," she said.
Voices are being heard and although change may be gradual, a generation of educated voters is arising. This is exactly the outcome that political activists want to see. If there's a problem in the world that you feel needs attention, bring it on, but make sure to fact-check and think before you post.