Mario Kart Tour rides to the top
Nintendo's latest mobile game takes the lead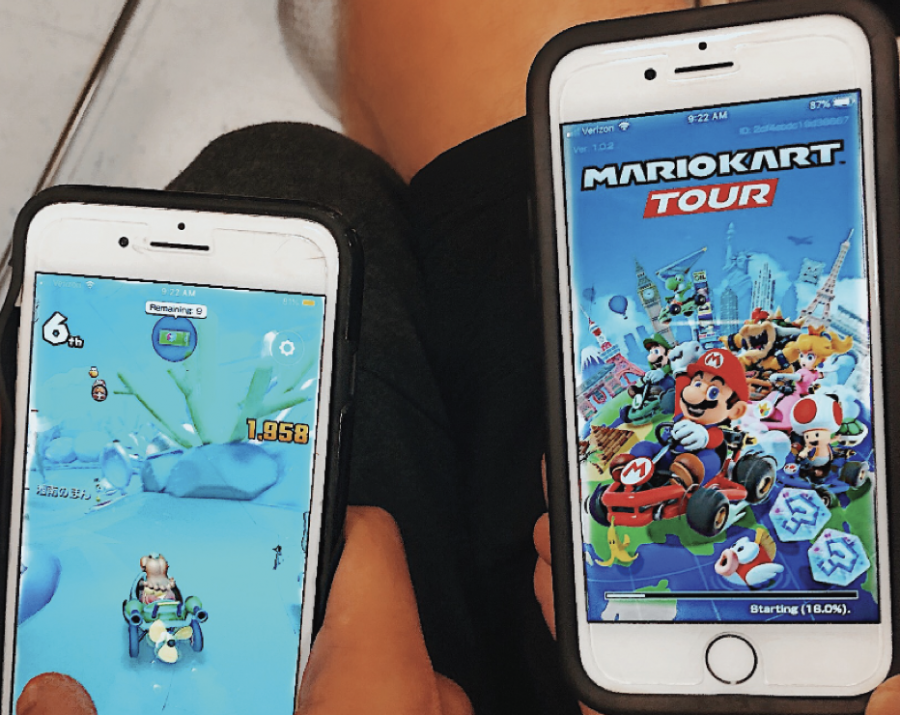 Earlier this year, Nintendo announced that after many requests from fans of the popular game series, Mario Kart would soon be playable on iPhones and Androids in the form of a brand-new app titled Mario Kart Tour.
After the game's announcement, Nintendo fans' hype continued to build until the game's long-awaited release on Sept. 25. Now that it has finally arrived, it has become a major topic of discussion among WHS students recently. But, it isn't just popular here.
The mobile app has already climbed to #1 on the "Top Free Games" category of Apple's App Store in its first week of release and is now, according to The Hollywood Reporter, Nintendo's largest mobile game launch yet with 90 million downloads. Surprisingly though, as the game now moves into its second week, its player base is not solely made up of Nintendo fans.
The game is far more popular with non-gamers than expected. But, what makes this game so popular with so many people?
First of all, many of the game's players are already Nintendo fans. These people are, and have been, dedicated to the company's countless games, franchises and characters, including Mario himself. They would not pass up the opportunity to enjoy additional free content from their favorite developers.
WHS senior Ayianna Dos Santos has been a gamer and Nintendo fan most of her life, and says, "like all Nintendo games, and video games in general, [Mario Kart Tour] is extremely fun and a great way to distract yourself from the world."
Of course, everybody needs a break once in a while. With homework and tests piling up throughout the year, students and teachers can often get stressed out, and what better way is there to relax than playing a video game?
These are the reasons why Mario Kart Tour is so popular among a variety of people. It's not only free and fun right off of the bat, but it's also easily accessible on your phone. With quick and straightforward races and the energetic, happy Nintendo characters that everyone loves, it's a fantastic way for students, teachers, Nintendo fans and anybody with a device to make a speedy pit stop before getting back on track and racing to victory.