A new dawn for student activism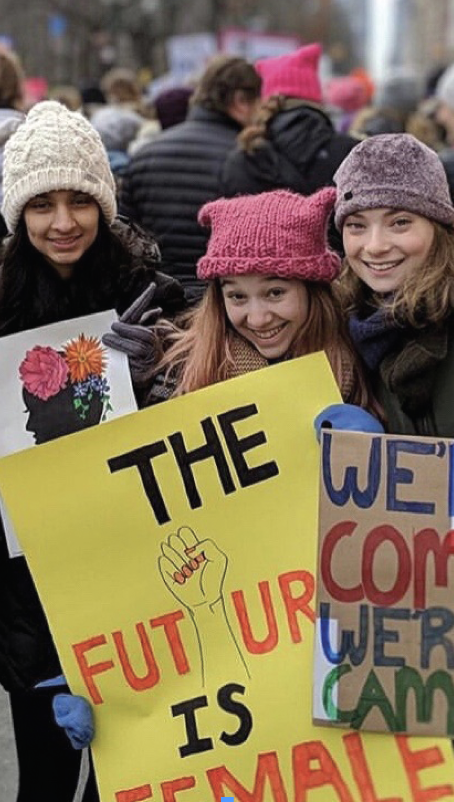 On Aug. 20, 2018, a 15-year-old girl skipped a day of school to protest outside Swedish Parliament advocating for immediate action against climate change. Just over a year later, that same girl was nominated for a Nobel Peace Prize and named one of the world's most influential people by Time magazine. Student activist Greta Thunberg and her Fridays for Future movement, an international network of students participating in school strikes to demand action against climate change, is now supported by over 3.6 million young students from 169 countries as of August, according to trust.org.
"I am not afraid to hold back my opinion," said Gandhi, "because that is what is needed to make change."
"
'If no one else is going to speak out, then I feel that I need to.'"
— Kareena Gandhi
But, Thunberg is not alone in spearheading a political movement; a new era of young leaders has emerged in recent years. The students of Marjory Stoneman Douglas High School in Parkland, FL took the nation by storm following the devastating school shooting on Feb. 14, 2018. Since then, Parkland students have created the #NeverAgain movement and inspired the March for Our Lives rally which united over 1.2 million people around the world.
Alongside Thunberg and the Parkland students, in an annual study conducted by University of California, Los Angeles in 2016, 1 in 10 undergraduates said that they expected to partake in protests while in college. This is the highest rate since 1967, the peak of the Civil Rights Movement when youth activism was at an all-time high. Young people are more inclined than ever to use their voices to tackle political issues and demand change.
But why the sudden surge of youth involvement in activism?
"With social media, we are being given information exponentially more than we were given 10 or 20 years ago," said junior Sean Marner, "which is why we're feeling this urge to participate more in social issues."
With younger generations more immersed in activist culture via social media, some even see it as their responsibility to become involved.
"I don't even think I'm doing anything special by being in [Girls Learn International] or going to strikes," said Co-President of GLI, junior Kareena Gandhi. "I feel like I am just fulfilling my duty by standing up and saying that people deserve equality and kids deserve a bright future. These are basic rights that we should have and if no one else is going to speak out, then I feel that I need to."
Surrounded by young activists inspired by passion or moral obligation, first becoming involved in today's rapidly progressing movements can certainly be overwhelming; however, it can be all the more intimidating when one's views don't align with popular opinions.
"We're constantly being told to just agree with everyone else and be like everyone else, but change can only happen when something doesn't go according to plan," said Marner. "When getting involved in activism, it's important to do it for yourself and what you believe in."
While it can be a difficult task to express one's opinions when they differ from the norm, the key to being a successful student activist is to be fearless with one's beliefs. Many student activists are unafraid to voice their opinions, even when they are unpopular.