COVID-19 incites fear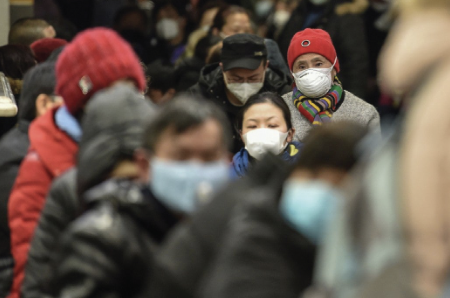 As of Feb. 19, worldometer.info reported 75,303 cases of COVID-19, the new coronavirus disease, amounting to 2,012 deaths across 30 countries. The World Health Organization declared the illness a global health emergency on Jan. 30.
"COVID-19 is a respiratory virus," said Carrie Burns, an associate professor of medicine at the University of Pennsylvania, in an interview with Hi's Eye. "It is a [type of] coronavirus, which is a large family of viruses common in animals."
The disease originated in Wuhan, China, where public health officials predict it was spread from a bat to humans through an intermediary animal. As for person-to-person transmission, "the spread of COVID-19 seems to occur via respiratory droplets, like the spread of influenza," said Burns.
On Jan. 23, Chinese officials implemented a travel ban in Wuhan to prohibit individuals from entering or exiting the city. Following the ban, two new hospitals were built in Wuhan to treat COVID-19 patients. Regardless, many criticized the Chinese government of a delayed response to the virus, as the first reported symptoms apparently dated back to early December.
During the first weeks of the outbreak, Chinese doctor Li Wenliang warned his medical school friends of the illness via text, but was silenced by Chinese authorities who misconstrued the virus' severity to the public. Li later spoke to news platforms to spread word of the virus without Chinese government approval but died from the virus on Feb. 7. His death sparked uproar internationally on social media as users criticized the Chinese authorities for their unjust censorship.
The disease has since traveled overseas, even spreading through a cruise ship, which was quarantined off the coast of Japan on Feb. 3. The ship held roughly 3,700 passengers and crew members for a two-week lockdown. CNN reported 356 cases of COVID-19 on the ship on Feb. 16, and many were relocated to Japanese medical centers.
American passengers were notified of their evacuation plan to return home on Feb. 15, sparking controversy as to why the U.S. government had not communicated this plan sooner.
The evacuation plan itself was likewise controversial. Americans were not retested for the virus prior to boarding the flight, and The New York Times reported on Feb. 17 that 14 of these passengers showed symptoms shortly after takeoff. These passengers were "placed in a specialized isolation area of the plane" until reaching the U.S. All ill passengers were quarantined upon arrival. There are 28 confirmed U.S. cases as of Feb. 19.
Alongside the threat of the virus came discrimination towards Chinese individuals. This racism, coupled with the loss of Chinese tourists, fueled a 50 to 70 percent decline in business in Manhattan's Chinatown, according to The New York Times.
"People are scared and try to assuage their fear through attacking others," said WHS senior Aidan Kilbourn. "It's fundamentally irrational and driven by fear rather than logic."
As for the future of COVID-19 in the U.S., there is discrepancy regarding its risk. The Centers for Disease Control and Prevention Director Robert Redfield told CNN he predicts the virus "will find a foothold… [causing] community-based transmission." Others, including Burns, disagree. She believes the enforcement of quarantines will dictate the domestic threat of the illness. "It has a potential risk to become a pandemic," Burns said. "But right now, risk is low, and risk of influenza is higher."