How the Girls Learn International Club makes a difference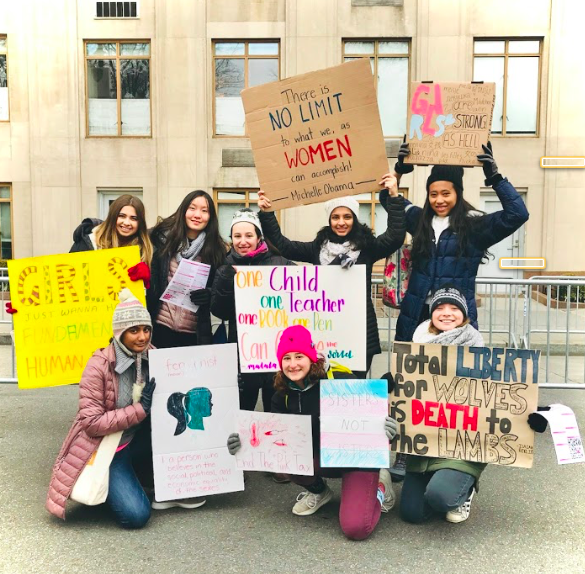 Every Tuesday in room 265, the Girls Learn International Club holds a meeting where club members learn about different topics through presentations given by group leaders. Each week a new theme is presented ranging from women in history to toxic masculinity. Through interviews and videos incorporated throughout the presentations, the club raises awareness about various ongoing issues. 
GLI fundraises throughout the year for their partner school network of about a dozen different Third World countries. The club sends their money to the official GLI program under the Feminist Majority Foundation, and then chooses a school, group home or foundation that will directly impact girls and boys who are at risk. The funds raised for the chosen group will go towards technology, health services or classroom improvements. Last year, GLI donated their funds to the Apne Aap School that prevents sex-trafficking in India and the Emusoi Centre for young women in Tanzania. 
Senior Director of Club Relations Remi Shendell explained how raising money to give children and teens a better life is one major goal the club has each year. "It's really important to try and help people," said Shendell. "There are all these amazing organizations that are without much funding, and the fact that GLI fundraises for them is important because we can actually see where the funds are going." 
Not only does GLI donate funds that directly help young adults in need, but club members also focus on bringing awareness to WHS and surrounding communities. On Mar. 21, GLI was scheduled to hold their annual panel in Caf. B, but due to the COVID-19 outbreak, the panel was cancelled.
Each year the club prepares a discussion with guests to speak and answer questions the audience may have. This month's panel was supposed to focus on sexual assualt and rape culture. GLI believes these topics are crucial for community members to learn, since the information may be directly applicable to their lives. 
"We want people to step out of the panel with more confidence," said Shendell. "If this happens to someone they know or meet, they'll know how to handle it and know where to go to get help." 
Since the panel is always a successful event for the club, GLI is working hard to reschedule the panel when school resumes; however, an official date has not been set. 
In the meantime, GLI wants students and staff members to know that they can educate themselves by attending the panel or by attending weekly meetings, when they resume. 
Junior Co-President Kareena Gandhi explained that GLI allows her to give back to youth. "I'm a big believer in equal rights for everybody. I've realized how fortunate I am and how lucky we are to go to school everyday," said Gandhi. "There are many men and women who don't have these opportunities, so even if [GLI] makes a difference in only 50 people's lives, that is still worth it." 
If you are interested in joining GLI and learning more about their upcoming events, contact Kareena Gandhi or Lauren Oligino for more information.