A closer look at the 'no-kill' movement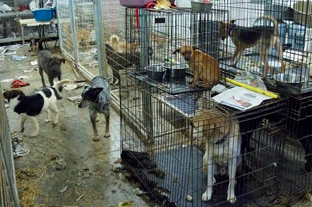 Kathryn Bartlett, R2 Features Editor & Long Form Investigative Editor
March 27, 2020
The "no-kill" movement, which rose in popularity throughout the '80s and '90s, stemmed from an honorable idea: No healthy cat or dog should be killed due to lack of shelter space. No-kill shelters attempt to save all animals that are healthy or have treatable conditions, and are given the official title if they save over 90 percent of their animals. 
The effects of the movement have been, at face value, extremely positive. According to The New York Times, the number of stray pets being euthanized has plummeted since the 1970s, when an estimated 13.5 million animals were euthanized annually, to 2.6 million animals in 2011. Further, the American Society for the Prevention of Cruelty to Animals (ASPCA) now estimates that the number is down to 1.5 million. However, it turns out that there is a much darker side to the term "no-kill," and it can be used as a cover for practices that violate its very spirit.
The ASPCA estimates that 6.5 million cats and dogs enter shelters each year. Less than half, approximately 3.2 million, are adopted. No-kill shelters fill to maximum capacity quickly. According to Director of the National Animal Interest Alliance Patti Smith, because no-kill shelters are not bound by public law to take in all animals in need, most of them are selective about which animals they accept, and turn away cats and dogs that are old or sick. Often these animals are abandoned and left to spend their last days on the street. As someone who deeply loves animals, I would rather see these unwanted pets pass in a dignified manner than continue to suffer.
Even those no-kill shelters that are willing to take all animals are often unable to provide them with basic care due to the sheer number of animals that come in. This can result in neglect and, in extreme cases, death. According to USA Today, a couple was arrested last September after 150 dogs were found dead on their rescue property in Missouri. Hundreds more were found living in "unimaginable" conditions, according to law enforcement, and many had to be euthanized due to poor health. Not only are such conditions abusive, but they also increase stress among inhabitants and are often the root of common problems, including aggression, food-guarding and separation anxiety, amongst shelter animals. Animals who exhibit these behaviors struggle even more to find homes, further exacerbating the homeless animal crisis.
As painful as it is to think about healthy strays being euthanized, it is clear that the no-kill movement is sometimes not in the best interest of the animals at hand, and trying to reform or better fund the shelters would prove ineffective, because there simply aren't enough potential owners for these animals. That said, I agree with the core goal of the movement: I would love to see a world where no healthy homeless animal suffers or dies prematurely. However, ending euthanasia altogether is not the way to get there.
Therefore, the focus should be on making sure that all pets are spayed or neutered, and that feral animals also have the same procedure. The ASPCA estimates that 1 unspayed dog and her offspring will produce up to 67,000 puppies in 7 years, while that number is 370,000 for a cat. Mandatory spay and neuter laws and cheap clinics need to become a reality in every state; if every domesticated or feral animal underwent the procedure, the decline in population would be immense.
It is also essential that we continue to promote adoption. While buying a cat or dog from a responsible breeder is better than going to a pet shop, where the animals come from the cruel conditions of puppy and kitten mills, I still encourage everyone to consider saving a life by adopting. Don't let the false comfort of no-kill shelters lead you to believe that all shelter animals will be well cared for. I acknowledge the efforts of breeders who prioritize their animals' well being over profit, but the best way to support animal health and welfare is to adopt from a shelter.