It's time for Trump to show off his patriotism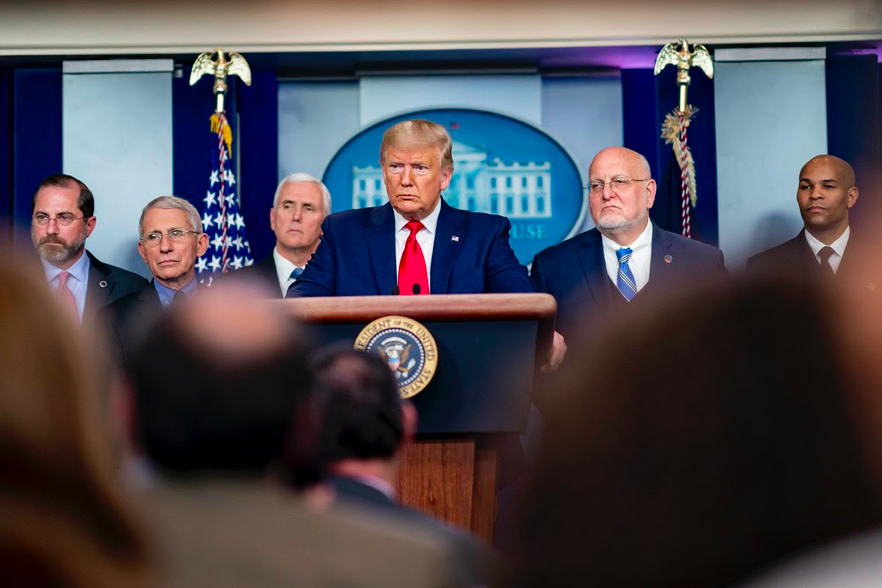 It is no secret that COVID-19 is becoming increasingly threatening to the U.S. as the days go on, and although more and more states and jurisdictions are implementing quarantining rules, the virus continues to spread at an exponential rate.
According to the CDC, there are over 180,000 coronavirus cases in the U.S., and the State of New Jersey reports over 20,000 cases alone. As a result, President Donald Trump extended social distancing guidelines until the end of April.
While certain officials such as New York Governor Andrew Cuomo have emerged as inspiring figures during this pandemic, others have become increasingly polarizing, one being Trump.
Like a bully choosing a victim, Trump has continually lashed out against Washington Governor Jay Inslee since early March when he called Inslee a "snake" and warned Vice President Mike Pence against contacting him. Trump went on to suggest that Inslee was manipulative and undeserving of compliments. During a press briefing on March 27, Trump went after Inslee again and called him "nasty" and a "failed presidential candidate," referring to his run that was suspended in August.
During the same press briefing, Trump commented that Michigan Governor Gretchen Whitmer "has no idea what's going on." In an earlier Fox News interview, Trump simply referred to her as the "young" and "woman" governor, saying that she was not "stepping up."  
"All she does is sit there and blame the federal government," he said, following her requests for aid.
Even in a national crisis, Trump has no problem attacking his opposition because he feels as if they do not "appreciate" what he is doing and disagree with some of his decisions. He continues to tear into official after official, creating rifts between states and the federal government and destroying possibilities of bipartisan cooperation.
It doesn't take a genius to realize that political quibbles are not the most pressing issue in the U.S. right now, and every day, more and more people die from a virus that is spreading rapidly. Despite this, Trump remains more concerned with governors slighting him rather than the safety of the American people.
I remember watching the news in fifth grade after Hurricane Sandy struck New Jersey and seeing former President Barack Obama speaking with former New Jersey Governor Chris Christie. Even as a 10-year-old, I was impressed by how these two men of opposing parties were able to come together during an emergency.
The COVID-19 pandemic is on an even larger scale than the hurricane, and Trump continuing to launch attacks on officials is detrimental to the entire country. Rather than working with people regardless of their parties, he is becoming increasingly unwilling to cooperate.
This is a time for Trump to truly show his patriotism and support for the American values of helping out one's neighbors and working together. However, it seems as if he is too worried about attacking the people who need him the most.
As an American, it is frankly depressing to see that Trump has boiled down this moment of national crisis to partisan quips. The U.S. needs Trump's help now more than ever, and if he cannot clean up his act, the U.S. will be suffering long after this pandemic ends.