Community bands together during pandemic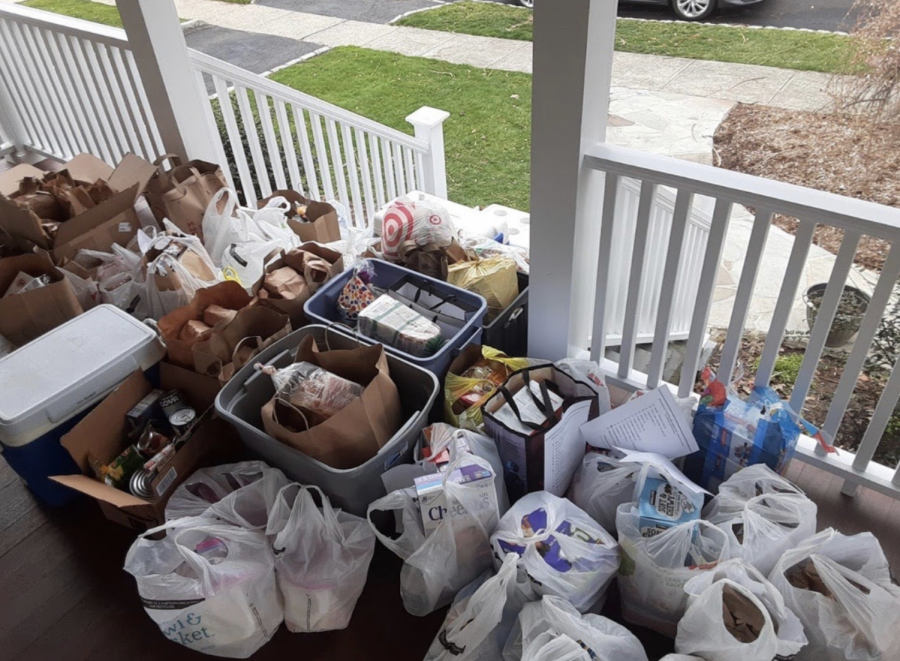 In the wake of the Covid-19 pandemic, many locals are banding together to donate supplies to those in need. Food and personal protective equipment have been, and continue to be donated by a variety of individuals and businesses. Local businesses such as Boxwood Coffee, Inspiration Roll and Outta Hand Pizza have made trips to many medical centers in order to donate meals to the healthcare workers. Their combined efforts show the strength of the Westfield community during troubling times, but there is still much help needed to assist families nearby. Donations are greatly needed, since there is much uncertainty as to when the virus will level off. The categories throughout this article acknowledge some local businesses that have generously supported healthcare workers followed by ways you can donate to local community members yourself. Any contribution made can change a life for the better. 
Hospital Supplies Donations Made by Local Businesses:
Chill Cryotherapy in Westfield donated its entire inventory of vitamins to the New Jersey Community Food Bank. Three healthcare workers also received Chill Cryotherpy's inventory of reusable masks. Hi's Eye spoke with the founder and CEO of Chill Cryotherapy Julie Shanebook about her charitable efforts. "I have the utmost respect for people on the front line of this pandemic," said Shanebrook. "It's the only thing I could do to help them stay safe." The company also donated Clorox wipes for health care workers to clean their cars after working in the hospitals. 
The Salad House has been heavily involved with first responders at Christ Hospital in Jersey City, Overlook Medical Center Emergency Room in Summit and the Westfield Ambulance Squad. "When you are running a business, you are dealing with people all the time… and when you see there are people out there hurting, you are happy to play some sort of role in helping the situation," said Jerry Eicke, co-founder of the Westfield location. "If maybe giving [first responders] their favorite sandwich or soup makes them feel normal for thirty minutes in a chaotic situation, it makes us feel great." 
The Salad House encourages any community member interested in donating to make monetary donations to groups such as Feed the Frontline or Front Line Appreciation Group. These online fundraisers help local restaurants donate meals to first responders in local medical centers.
Donations for Community Members: 
&Grain located in Garwood is offering free bread for the eldery and those out of work due to the virus. On Mar. 31, the restaurant started taking orders. Orders must be placed by 1 p.m. for bread the next day. 
Little Free Library located at 710 East Broad St. and at the First United Methodist Church in Westfield have turned into free food pantries. These pantries are looking for nonperishable food items that can be placed directly on their shelves. 
Ellen Donohue Windorf is helping collect food donations for St. Joseph's Social Service Center. She decided to get involved after seeing an email from St. Helen's church after a two-lunch Tuesday program was suspended. After posting on Facebook, Windorf joined forces with members of the Westfield Rotary Club. Together they have formed a network of 11 houses throughout the local area, which serve as sandwich drop-offs for St. Joseph's. 
The group is asking for a bagged lunch consisting of sandwiches and fruit or individually wrapped sandwiches with no condiments. Individually wrapped sandwiches should be placed in the bag the bread was in and labeled. 
Windorf feels that giving back to the local community is especially important during this pandemic. "A lot of these people [we are helping] don't have a lot of stuff to fall back on, so it's important for people that are fortunate to help them," said Windorf. "It's also a great example to set for your children. There are people in need, and it's important to help when you can." If you are interested in donating, contact Ellen Winforf at [email protected]. 
Medical Supplies Donations: 
Jill Ripper, an emergency physician at University Hospital in Newark, has organized a donation drive for extra thermometers in good condition. Any donations must be in a sealed plastic bag. Contact [email protected] for drop-off information. Dr. Ripper will properly clean and distribute these thermometers to residents and health care professionals that need to take their own temperatures daily. 
Phyllis Binder has created a local sewing group to create masks for healthcare workers. There is a growing demand for these handmade masks, so the group is in need of more helpers. In particular, the group is looking for members that can sew, and they are even offering to loan a sewing machine and fabric. Binder explained in a recent Facebook update how anyone is welcome to join, and any donations of cotton or flannel fabrics is also appreciated. Contact [email protected] for more information. 
Pet Food Donations: 
Katie Friedman, Laurie DiRussio and Dawn Russomano have offered to purchase pet food for people who are currently out of work and struggling financially. Any donations can be sent to @Kate-Friedman81 through Venmo, or people can contact [email protected] with questions.
Electronic Device Donations:
The Saturday Morning Fun Club works with refugee families throughout Union County. Volunteers help these families through job training, English classes, homework help and other programs to assist the club members. The Club is taking donations of any Mac or Chromebook laptops so the children can continue their education online. Every donation will be wiped clean, and a new OS will be installed. Email Michael Saxon if you are willing to donate to the Saturday Morning Fun Club at [email protected]. 
JFK Hospital in Edison is looking for new or used baby video monitors to check on patients. A drop-off location has been set up at St. Paul's Church located in Westfield. 
Monetary Donations: 
Westfield United Fund supports programs and independent agencies, they state on their website that their mission is to, "help people in our area who need care and social services."
The Westfield Foundation pledged to match $30,000 of contributions to the Westfield United Fund #WeLoveLocal fund. The #WeLoveLocal campaign is helping to support local business during this time of economic decline. It was created by the Westfield United Fund and partnered with the Town of Westfield on this initiative. The campaign was recognized during a live streamed porch concert from Johnny Rzeznik, lead singer of the Goo Goo Dolls, with the mayor raising awareness for the fund.
Over the past few weeks, there have been many organizations created to support local restaurants in these trying times and take care of workers on the front lines. Organizations such as Feed the Frontline, First Line Appreciation Group and Mountainside Cares will be accepting monetary donations to continue donating meals to health care workers. For more information about these organizations visit the respective Facebook pages or email [email protected].