An opus for the ages
Childish Gambino's latest album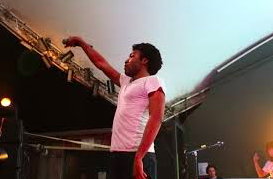 On March 15, Donald Glover released what his fans thought was his newest album in nearly two years. He posted new music in a loop on his website, donaldgloverpresents.com,  but 12 hours later the website stopped playing the music and the project had disappeared. A timer then appeared on his website that lasted a week.
Then, seven days later, his project was released on music streaming platforms and was titled 3.15.2020, the day the website album was released. The project is not a traditional album; it is a single-track opus, meaning the entire album is just actually one long song rather than multiple separate songs. 
The project combines many of the elements apparent in previous Childish Gambino projects. Quick raps, techno-pop and funk, combined with underlying R&B notes, form the backbone of 3.15.2020. Forbes.com refers to the album as a kaleidoscopic blend that serves as a culmination of every phase of his career.
Because the album is actually just one long song, Gambino named each individual track as a timestamp with the first section of the song titled 0.00 and the last, 53.49. He did this because he wanted his listeners to listen to the entire thing as a single track opus the way he intended.
Not all songs on his single-track opus are time stamps; "Algorhythm", which Gambino has performed many times at live performances and "Time," which features pop artist Ariana Grande, are also included in the opus despite not having time stamp titles. Fans are also familiar with the track "Feels like Summer," which was featured in the screenplay Guava Island that Gambino and Rihanna starred in.  This track was renamed 42.26 to fit the timestamp theme of the album. 
Just like every other one of Gambino's projects, he is able to keep his humor alive in his songs. 12.38 tells a story about psychedelics that helped him write songs and he is able to show that with a more relaxed funk beat. The song also features Rap Artist 21 Savage and his feature continues the humor with lines, "I'm on a private jet eatin' Popeyes chicken / I be flexin' like I'm eatin' Popeye's spinach."
Each track introduces different styles of music revealing Childish Gambino's potential. His variety of musical styles blend together, not only to create a cohesive album, but an entire 58 minutes opus with masterful fusion of sounds. 32.22 takes a more upbeat, funk tone that takes the mind on a musical trip, but the next timestamp, 35.31 has a country feel to it that is more relaxed, giving the listener time to recover from the intense section they previously heard.
The album cover is also unique as it is just entirely white, like a piece of blank paper. This is in contrast to the website where the music was originally released that utilized sketch art as a cover, but it has since disappeared after the official release. Similar to Gambino deciding to use timestamps as a way for his listeners to listen to the project in its entirety, the lack of album art created no distraction and put more emphasis on the music itself. 
As his many projects before have taken his listeners through a variety of different sounds and styles, 3.15.2020 combines all of these styles and sounds together to create the Childish Gambino project that we have all been waiting for. And if this does happen to be the last Gambino project, an idea that Gambino himself has hinted at, it is the perfect end to a brilliant run of Donald Glover and the legend of Childish Gambino.