Face masks for all: NJ and NY face mask requirement sparks DIY action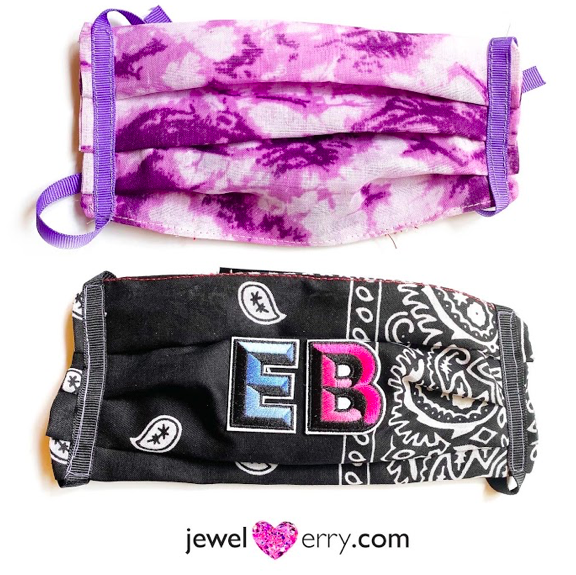 The novel coronavirius has killed more than 28,500 Americans, nearly 3,000 of them from New Jersey. Due to widespread effects of the virus, as of April 10th, New Jersey Governor Phil Murphy declared that customers and workers are now required to wear face masks at essential businesses. This aligns with the new recommendations from the CDC of wearing "a non-medical cloth face covering" if you must go out to an essential business. Today, in the state of New Jersey, if you are in a public building around others, you are wearing a mask.
As businesses have come to a halt, essential retailers have been taking precautions to protect their employees and store patrons. Rachel Siegerman, a WHS senior and ShopRite Garwood employee, said that when she attended work at her essential business on April 11th, "everybody was wearing face masks" in a variety of materials. She also explained how police around the store "tell people that don't come in with face masks to bring a face mask the next time they come in."
Now that more individuals are purchasing face masks to wear out to grocery stores, pharmacies and other essential businesses, some argue that this new rule would limit the number of masks available for front line workers. However, health officials, community residents and small businesses alike have alternatives to purchasing surgical and medical masks that are appropriate and necessary for healthcare workers. 
Surgeon General Jerome Adams recommended in a video he released to use a bandana, scarf or washcloth and fold it multiple times to create a protective barrier. Americans are now being pushed from their desks to the sewing machines and masks are being fashioned out of scraps of linen, elastic and all different types of materials. 
When scrolling through social media, you are bound to see a user's final product of their DIY mask or even a popular brand's rendition of a face mask. Now that masks are required when going into the outside world, many small businesses have begun creating masks to donate to healthcare workers and to sell to their customers. Some masks can even be customized to say your initials or your college. Instagram-famous brands like JewelErry, based in Long Island, NY (@shopjewelerry on Instagram), have hopped on to these mask-making efforts. 
Erica Bernstein, founder of JewelErry, said in a Hi's Eye interview that she and her mother began sewing masks to donate to hospital units around New York and New Jersey. She said, "My mom and I are at the sewing machines from 9 a.m. to 8 p.m., and then we do the labels and the packaging. We have time here, so we might as well do some good with it." 
With the face mask requirement in both New York and New Jersey, Bernstein was able to expand her mask-making services to her customers, while continuing mask donations to various hospitals in need. By popular demand from her followers, these homemade masks come in eleven different colors, are customizable with initial patches, and can be purchased on her website. 
Throughout Westfield, different community members have come together to make masks in a socially distanced way as well. Individuals in the town of Westfield and the surrounding communities are creating masks for themselves, as well as healthcare workers. Instead of these masks going to front line workers, some of these homemade masks are instead being donated to those who are working within doctors offices and hospitals without COVID-19 patients. 
One Westfield group that has popped up making washable and reusable masks for healthcare workers is NJ Sews In Unity. According to an update posted by admins of the group on Monday, nearly 2,000 masks were donated to healthcare workers. Through Facebook and other social media platforms, these groups have been able to organize mask-making efforts and continue to practice social distancing in the process. 
One of the maestros leading this effort is Marci Kleinberg-Bandelli, a Westfield resident. She posted in the group that, "our doctors, nurses and medical professionals need our help and we are eagerly responding."  
The process begins with someone sourcing the materials, after that they must be delivered to cutters. At this stage the materials are then brought to sewers who then assemble the mask. At this stage, their masks are ready to be delivered for use. Bandelli says to the group, "this is a goal oriented group focused on the mission: to fulfill the need to make masks for our medical community fighting the COVID-19 virus!" 
In one instance, NJ Sews in Unity created a mask for cancer patients receiving  chemotherapy at St. Barnabas. All together it is a contactless stream that takes into account the unusual time we are in.
Even with all this work and protection, is it enough? Scientists, bloggers and Facebook posters have debated how effective precautions like a mask really are. However, large and small companies are sparing no expense to try and protect their workers for as long as possible. Siegerman said that, along with providing masks and gloves for employees, ShopRite installed plastic shields in front of the registers. However, as these measures still may not be enough, police at the ShopRite take employees' temperatures and mark them as "safe" to work for the day with a sticker. 
In order to slow down the spread of the coronavirus, it must be noted to keep at a minimum of six feet apart from others to ensure the slightest possibility of not contracting the virus. Of course, if you must go out, adhering to the federal, local and in-store rules will help you stay safe. And remember to bring your face mask.